Finally, the day had come that my 10-year old son had looked forward to the most. LEGOLAND! Heading into another full day in Southern California, I don't know if we knew what to expect of LEGOLAND. We have a LEGOLAND park up in Dallas, but it is nothing like what we experienced here.
LEGOLAND California is HUGE – and filled, I mean FILLED with stuff to do. Not only is it a massive theme park, but it has the SEALIFE Aquarium and a Water Park to boot. We decided to take our time, stroll thru and do what we wanted to do.
All the advice we had received was to do Miniland first, before it got too crowded. I had seen and read lots on Miniland before the trip – everyone said it was incredible and it really is. The detail that goes into all of these models were amazing.
We saw various American cities complete with moving parts – vehicles, water fountains, a marching band – we could have walked through here all day and still not seen all the details.
So now that I've taken the kids to see Washington D.C., we can cross it off our list right?
LEGOLAND also has a Star Wars Miniland that kept my boys (big and small) occupied. I was more enthralled with the full-sized X-Wing made out of LEGO bricks. It is the world's largest constructed LEGO model, made out of 5,335,200 LEGO bricks. It was just presented in NYC a few months ago and they just hauled it out here on 6 semis.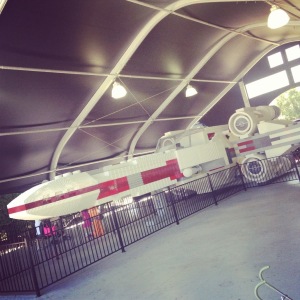 The thing I like the most about LEGOLAND was the rides. There were plenty of rides that fit my 4-year old's speed. He loved flying the airplanes, driving the cars, riding the small roller coasters. He laughed his way through the park, wanting to do MORE, MORE!
The big kids enjoyed some rides too –especially the Knight's Tournament – upside down???
And I got to enjoy more unique food. These are Granny's Apple Fries – French fried granny smith apples with vanilla whip cream. YUM! We're just going to start calling this the "Unique Theme Park Snacks of Southern California Tour".
It was a great day – we loved the pace we took. We didn't get to see it all –I can see why multiple days or an annual pass would really come in handy here.
We did visit the "Big Shop" on our way out of the park. I was a little fearful that we would be in here forever with my LEGO lovers.
Well, ok, maybe we did a bit of damage…….