After our quick stint in Vegas, we were all set to explore Southern Utah. It amazed me that after all these years of living in Nevada, I never once visited Zion or Bryce Canyon. I guess as a teenager and young adult growing up in Vegas, National Parks were clearly NOT a priority. But they should have been.
The drive into Utah, via a quick bit in Arizona, was stunning. I can't believe I lived about these mountains for so long and never fully appreciated their beauty. Not once during the drive, has it been hard – there is so much amazing stuff to see out the front window. Like the stunning Virgin River Gorge we drove thru before reaching Utah:
And here we are, state number 6 for the Bigger Than Texas Road Trip!
As we headed north, the views kept getting better and better. I kept trying to capture the beauty with a snap of my iPhone, but never did it do it justice. You are just going to have to make the drive yourself to see it in person….
Before hitting Zion, we took a little side trip to Grafton. It's a true ghost town, deserted in the 1940s. The two remaining buildings are refurbished and they hold events out here, but honestly, being so far away form everything, it just felt creepy out there. It must have had something to do with the empty buildings and not a soul in site. We were not there for long.
And that could have had something to do with the fact that we visited the cemetery first.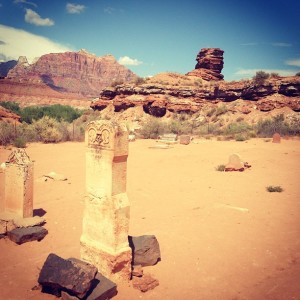 Zion National Park was stunning. I didn't really have high expectations for it, as most of my research had been on Bryce Canyon, but I was blown away. Zion is gorgeous. You can only tour the famous points by bus, so we hopped on right away.
It was a great ride, as it is narrated most of the way. We were blown away by the beauty of the cliff walls. It was such a different park for us than the Grand Canyon. Whereas you view the Grand Canyon from above, you don't actually feel like you are in it (unless you are fully prepared for a hike down into it).
Zion is right there. You can touch the beautiful red walls, easily hike around or on top of them. I was so pleasantly surprised at how much there was to see and do there.
We hiked a recommended walk up to Weeping Rock. You can stand in a carved out area of the cliff and water falls right in front of you – it's a gentle weeping, not a pounding waterfall – very peaceful and serene.
We also had planned to hike along to the beginning of the Narrows, but a crazy rain storm blew in, crowding a bunch of wet & stinky hikers on the buses to get everyone out of the canyon. We were told it was "monsoon" season the last 2 weeks of July in Utah. Seriously? Right when we are here?
The drive out of Zion was just as magnificent at the bus ride up into the park, though it was hard to take it all in as I was driving. It was also pretty cool the be able to drive through the 1.3 mile tunnel – an architectural feat for the time it was built (1930's).
After a long day of exploring, we headed to our evening of fun at the Zion Ponderosa Resort. Located just a few minutes outside of Zion, this Ranch was amazing. We had arrived to late to enjoy any of the activities, but we did get settled into our accommodations…….
Did we stay here? Or here???