I know it's cliche', but I had to go with it. We drove I-40 from Albuquerque to Flagstaff today and hit all the great cities that make up the Southwestern portion of the famous Route 66 – Gallup, Winslow, all the great names you know from the songs.
But i have to mention our breakfast before hitting Route 66…..Rebel Donuts….Do you spot the Pancakes & Bacon donut??
My mom says I'm just nostalgic for the Southwest, as we drove through it and lived in it for a while, but I think it is beautiful out here. Each bend is a completely new site to see – red, ragged, abrupt hills that all have their own look to them. I love seeing all the old souvenir shops that dot the highways, yet they are all very dilapidated and most are closed – remnants of an era of a slower pace of life.
One last stop in New Mexico before crossing into another beautiful state:
Just a few miles into Arizona on I-40, you come to the Petrified Forest National Park. As I did my research online, I didn't find much about it other than you can see petrified wood. But I had heard from so many that it was a must see place, so we stopped.
And I am so thankful we did. It is so much more than just petrified wood! As you enter from I-40, you can drive 28 miles south and through the park, exiting on the south end and taking a road back up to Holbrook to meet I-40.
As you drive into the park, your breath is taken away by this view:
The Painted Desert – I honestly don't feel like my pictures do it any justice. The colors are so much more vibrant in person. And it looks as if God just took his hand and molded it. It is amazing.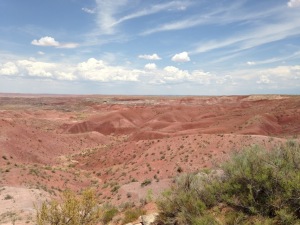 Even my children were in awe. You can stop at many over looks to get different views.
We also came upon Pueblo Indian ruins and some pretty amazing petroglyphs – this particular one is called Newspaper Rock because of the hundreds of petroglyphs etched on them. Here is is up close.
And here it is at the bottom of the hill – it was huge.
Another amazing site to see in the Petrified Forest was the Teepees – there is a scientific reason why these rocks have multiple colors and my 10 year old son can explain it to you, but at this hour, my brain has failed me – just know – they are so much bigger than they appear in the photos. And they are gorgeous.
Lastly, towards the south end of the park, you come across the petrified wood – and we hunted down this guy – Old Faithful – the largest piece in the park.
I am so glad we took our time – about 2 1/2 hours – in this park. It was amazing – please put it on your bucket list!
Driving back up to I-40, I found the motel I want to stay in my next time through – anyone recognize this place, or the one that is similar to it in a major motion picture? My kids did!!
And of course driving through Winslow, AZ, we had to go stand on a corner. My daughter had absolutely no clue why I was making her do this today – I have the song and made her listen to it. She was not impressed – typical 12 year old.
And our last pit stop was to the Meteor Crater. This is the best preserved meteorite crater on earth and it is HUGE! Almost a mile in diameter – 20 football fields can fit in it. There is a great museum and 2 good films to explain more about this amazing site. My kids were impressed, but I can't wait for them to see the even bigger hole in the ground we are going to see tomorrow!!
Good night all – busy day at Grand Canyon tomorrow! So excited!!