In the middle of freeways, hotels, restaurants, and busy streets, sits the famous Disneyland. You wouldn't really know it is there unless you can identify some of the more famous structures peeking above the thick foliage they use to cover it. Without the signs, you wouldn't know it existed. And that is probably how they want it. So when you enter, it is if you are walking into a different land.
And I very stupidly thought we'd just drive right on up to the parking lot and walk in the park. Not so. After waiting in line to park in the multi-tiered parking garage, waiting in line to ride the tram to the entrance of the park, waiting in line to get our tickets, waiting in line to enter the park, we were finally there. That took about an hour. By then, we were all fully grumpy and not feeling the magic. In fact, when I made the children pose in front of Cinderella's Castle, my 4 year old blurts out "I want to go HOME!".
Uh no. Let's go to Fantasyland and show him what Disneyland is all about.
It was still fairly early, so ride times were small in Fantasyland. I think we waited 5 minutes to ride Dumbo. And this grumpy Gus became all smiles! That was AWESOME Mom! From there we rode my husband's all-time favorite, Peter Pan, and the teacups, and Wild Toad's Ride – our moods all improved right away. We were in Disneyland!!
Our goal for the day was to ride the rides that Disney World did not have – but for us (the big kids), that meant Matterhorn Bobsleds (kids rode 5 times!!) and Indiana Jones. We did notice there were subtle differences in rides between the two parks. We felt that Space Mountain was much smoother here. Star Tours was much more updated. Pirates of the Caribbean has a restaurant in the ride (so cool!). It's a Small World starts outdoors. And let's talk about the castle.
When we walked down Main Street USA, we were expecting a big castle at the end. In Disney World, Cinderella's Castle is HUGE – very tall. This castle is puny (sorry, but it is). I walked around all day thinking that until I finally had a conversation with someone about it. It's Sleeping Beauty's castle, which is much different than Cindy's. Oh. Ok. It's still small.
So what are my favorite moments of the day? I loved introducing my youngest to Space Mountain. He was terrified so he sat with his Dad. As we arrived at the end, they asked us if we wanted to go again. YES!! Twice in a row! We finished and he hops out of the car, looks at me and yells, "I AM NOT riding that again MOM!"
Another time, my youngest and I were waiting on the big kids to ride Indiana Jones when a beautiful princess walked by. "Look Buddy, It's Belle!!!". It wasn't. It was Tiana – and she let me know about it. I thought all Disney Princesses were sweet?? Maybe not in California…..
Dole Whip. Need I say more? We waited in this line for our favorite theme park treat:
And yes, it was absolutely worth the wait:
We ran all over Disneyland, using our fast passes and making sure we rode the ones we wanted to. We completely wore out this little man.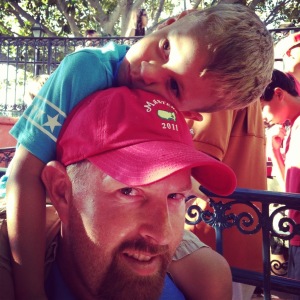 And as we waited in the Hub for the Fireworks show, I took it all in. It was the Happiest Place on Earth. My children had smiles on their faces all day long. And everyone around us did too. Does Disney pump happy juice in everyone's drinks? Fill the air with something that makes you giddy? Or does the laughter and happiness naturally spillover? Everyone was happy.
Before we came, I balked at the ticket price. I thought $100 was way too much to pay for one day (Single day ticket). But after seeing the amazing rides – they are so themed and long – and watching the reaction out of my children, it was absolutely worth it. The shows, the characters, the rides, and all the experiences Disneyland offers – there is no other place quite like it.