We recently tried the Disney PhotoPass and Memory Maker on a trip to Walt Disney World and fell in love with the pictures we took home. Beyond the great photos, there are several reasons why I won't take another trip to any of the Disney Parks without using Disney's PhotoPass & Memory Maker services.  Here are 9 Reasons Why You Should Use Disney's PhotoPass & Memory Maker.
Last Spring, we had the awesome opportunity to take 2 trips to Walt Disney World – one for a TravelingMom.com conference and the other for the Disney Social Media Moms Celebration.  On one trip we took our own pictures, which were great and we left the trip with several fun shots.
The next month, after using Disney's PhotoPass and Memory Maker on our trip, we were blown away with how many fun & creative photos we brought home from our trip.  So much so, that I can't imagine taking enough trip to a Disney Park without it.
Anyone can utilize Disney's PhotoPass. You simply scan your Magic Band after the picture has been taken and it is loaded into your My Disney Experience account. Memory Maker is a photo package that includes digital copies of all the photos taken by PhotoPass photographers.  I was always on the fence about purchasing the Memory Maker before going to the parks because I just didn't know if I would use it enough to justify the purchase.  After this last trip, I will be purchasing the Memory Maker from now on.  Here's my reasons why:

9 Reasons Why You Should Use Disney's PhotoPass & Memory Maker
Disney's PhotoPass: Magic Shots
One of the highlights of taking photos at Disney Parks with Disney's PhotoPass are the Magic Shots.  Ask your photographer to pose you for a Magic Shot (if they don't automatically do it for you).  And you will take home some fun shots like these.
We have a photos of my daughter on her first trip to Walt Disney World when she was 4 with Tinkerbell in her hand, so I was thrilled to get another now that she is 15.
Disney's PhotoPass: Quality Photos
With Disney's PhotoPass, you don't have to worry about adjusting your camera's settings to take great pictures.  Look how perfectly this shot is of us and the castle lite up at night.  I can't say I would know how to take a photo this good. Lucky for me, I didn't have to worry about it.
Disney's PhotoPass: Mom's in the Picture!
I'm speaking to the mom's out there who are always behind the camera on vacation.  Or you are scrambling to find someone to take your picture, only to have it turn out terrible. Yep.  You know it.  I came home from our latest trip with LOTS of photos with MOM in them!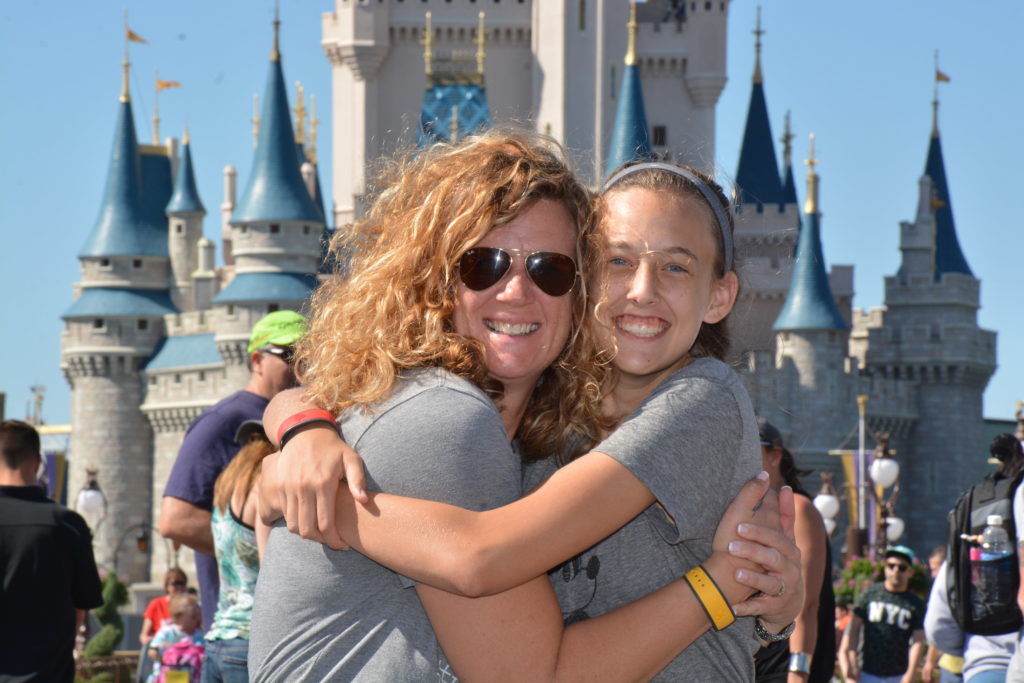 Disney's PhotoPass: No Camera Hauling
This is one of my favorite reasons why I loved Disney's PhotoPass & Memory Maker so much.  I didn't lug my big DSLR camera around the parks like I had in years past.  I had less to carry and then I didn't have to worry about my camera when I was riding rides.
Disney's PhotoPass: Enjoy the Ride
Not that I would pull my camera or my phone out to take pictures on Rock 'n' Roller Coaster featuring Aerosmith, but it was nice to sit back and enjoy all the rides without trying to snap photos of your kids.  Take a look at these great captures we took home:
And we even had a chance to get a little goofy on some rides!
Some of the rides even put together fun videos like this:
Disney's PhotoPass: PhotoPass Photographers are Everywhere
You can find Disney's PhotoPass photographers EVERYWHERE.  At the entrances of all the parks, Character Dining, Character Meet & Greets, and sometimes just roaming the parks.  You will also find them at interactive attractions such as Enchanted Tales with Belle and Star Wars Jedi Training Academy.
Disney's PhotoPass: Digital Copies of All Your Photos
Let's face it.  When was the last time you printed off a picture and stuck it in a photo album?  We are all moving digital now and if you purchase the Memory Maker, you get EVERY picture from your trip available to download.  You can pick & choose OR you can download them all.  They come in a .zip file, so the download is fairly quick.
Disney's PhotoPass: Photos show up Quick
Let's say you are in the parks and something AMAZING happens – like riding the Twilight Zone Tower of Terror ALONE – that you want to share with all your friends on the Facebook. Well, you can.  Most of the photos show up immediately in your My Disney Experience app on your phone and if you have the Memory Maker, you can download them instantly.  Share away my friends.
Disney's PhotoPass: 30 Days to Download Your Photos
Are you tired when you get home from a Disney Parks trip? Us too.  It usually takes a full week to recover from all that fun, and consequently, I don't get to downloading my photos until good 2 weeks later.  The nice thing with both Disney's Photo Pass and Memory Maker is that you have 30 days to download your photos.  And you will receive friendly reminder emails so you don't forget.
Honestly, I never took advantage of Disney's PhotoPass & Memory Maker because I didn't think I would use it enough to justify the cost.  But I am here to tell you, that is NOT the case.  If you purchase Memory Maker before your trip, you get a discount and all of your photos will be included, versus waiting to get to the parks to purchase it.
If you are investing in a full week at the Disney Parks, you are going to want to capture the memories that you will be making and the best way to do this is with the Memory Maker.  I highly encourage you to purchase it and enjoy your vacation without having the worry or the hassle of taking photos on your own.
Other Disney Articles You May Enjoy:
10 Things You Must See This Holiday Season at Walt Disney World
9 Reasons Why You Should Use Disney's PhotoPass & Memory Maker
My Thank You to Walt Disney World Cast Members
10 Cool Experiences at Epcot
New Star Wars Attractions at Walt Disney World
Animal Kingdom at Night
11 Tips to a RunDisney Race
Jungle Navigation Co., Ltd. Skipper Canteen Review
Walt Disney World's Coronado Springs Resort Review
Disclosure: My family & I were invited to the Disney Social Media Moms Celebration.  I was not compensated for this article.  All opinions are my own.