Some television fun we had while at the Moana Red Carpet Premiere, was meeting the cast of the ABC hit show, Dr. Ken, while visiting the set.  They were so friendly & easy to talk to and it was so fun to be on the set: 
My husband is such a fan of Ken Jeong.  Ever since The Hangover, he has followed his career, so it was a treat to meet this comedian and visit the set of his show Dr. Ken while in Los Angeles a few weeks ago.  In fact, we had the chance to meet the entire cast of this funny show and they were all so excited to be a part of such a funny show.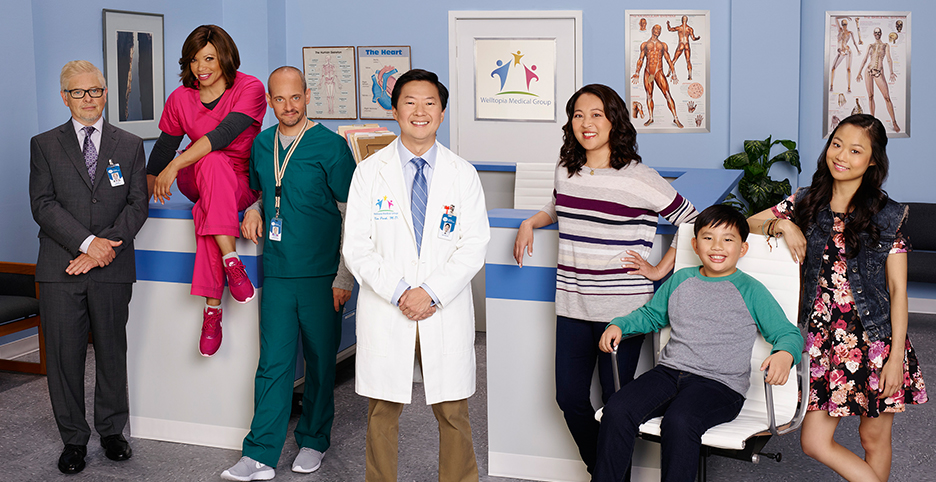 Ken Jeong returns for a second season as the titular character in "Dr. Ken" and continues to be the hilarious general practitioner we all know and love. He has a smart and beautiful wife, two decent kids and a loyal but sometimes irritating support staff in a job where he gets to help people on a daily basis, all the while using his unique sense of humor to get him through the day.
Dr. Ken: The Cast
As soon as we walked on set, the cast of Dr. Ken start trickling out from their break from rehearsals.  They shoot in front of a live audience, so they had been rehearsing an upcoming Holiday episode.
Each one was so gracious and really took the time to visit with us and ask us questions about out blogs. Tisha Campbell-Martin asked every one of us the names of our blogs and a few questions about it.  She was incredibly sweet.  And I was excited to meet Jonathan Slavin – I think he is such a funny actor.  Fun fact – he is also has a guest role on Speechless.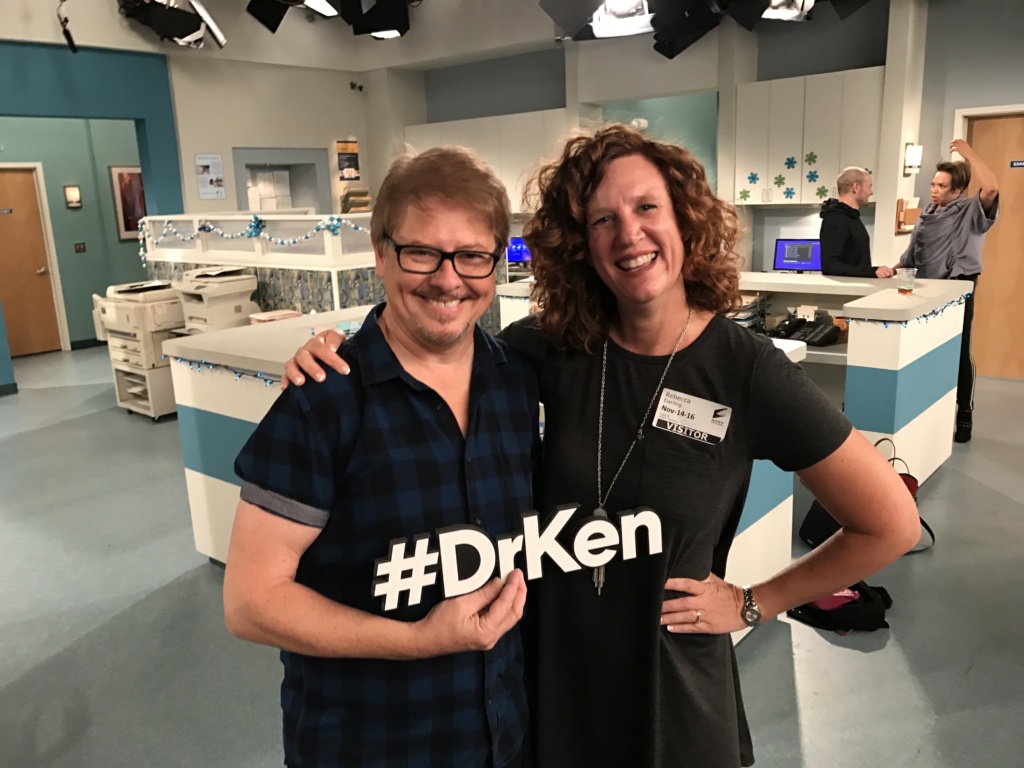 And I was thrilled to meet Dave Foley.  Before kids, one of of favorite TV shows was NewsRadio (remember that one?) and I have always thought that Dave Foley was a terrific comedian – whether it's voice Flik in A Bugs Life or funny man on Kids in the Hall – and I was glad I had the opportunity to tell him so.
The entire cast sat down with us for a few minutes to talk about the show and it was so unto see the natural dynamic between all of them.  Ken Jeong is an actual internal medicine physician, so his knowledge of medicine helped in creation & writing of the show. And as much as the show is an established comedy, Jeong talked about the endearing moments it has too, such as the relationship between Ken & his onscreen father living at home.  You can tell that a lot of thought really goes into each episode.
Dr. Ken: Set Visit
Dr. Ken is filmed in front of a live audience, which makes for a really fun atmosphere for the cast and crew to work with.
And they were all set up for filming the Holiday episode while we were there.
We had a great opportunity to chat with the 2 kids on the show – Krista Marie Yu – who plays Molly on the show, and Albert Tsai – who plays Dave.  They both have loads of talent and personality.  Albert was asking us lots of questions about blogging – I loved how curious they were about what we do…..isn't it supposed to be the other way around?
Dr. Ken: "D.K.'s New Girlfriend"
If you haven't watched Dr. Ken yet, now is the perfect time to get started.  All episodes are available at ABC.com and on the ABC app.
Tonight's episode is going to be so funny!! Take a look at this clip and you will see why……
When D.K. overhears Allison complain about him overstaying his welcome, he decides to move in with his girlfriend of three weeks. Meanwhile, Pat wants Dave to pretend he's his adopted son; and Allison is convinced Molly wants to talk about something when she suggests they do a spa day, but the tables turn when Molly is the one doling out the advice.
Dr. Ken is on ABC Fridays 8:30/7:30 CST
Other Articles from the Moana, The BFG Blu-ray Event, ABC TV Event & Stuck in the Middle Event you may enjoy:
I'm Heading to the #MoanaEvent
Walk the Moana Red Carpet with Me
She's Not a Princess Mom, She's a Hero!
Exclusive Interview with Moana's Maui, The Rock
That Time I Met Musical Genius Lin-Manuel Miranda
Exclusive Interview with Moana's Auli'i Carvalho
A Conversation with the Cast of Disney Channel's Stuck in the Middle
Holiday Gift Guide for Moana: Moana-Inspired Gifts
The BFG Blu-Ray: A Perfect Holiday Gift
Behind the Scenes on the Set of Speechless
A Conversation with The BFG Roald Dahl's Daughter, Lucy Dahl
Behind the Scenes on the Set of ABC's Dr. Ken
Nicole Scherzinger Had To Play the Role of Moana's Mother
6 Fun Facts About Moana from Directors Ron Musker & John Clements
Disclaimer: Disney sent me to Los Angeles on an all-expenses paid press trip, in exchange for my coverage of the red carpet premiere of Moana. All opinions are my own.