Looking for a fresh Christmas tree this year? How about a fun experience cutting down your own Christmas tree?  The Elgin CHRISTmas Tree farm in Elgin, Texas has just that.  Here is our experience: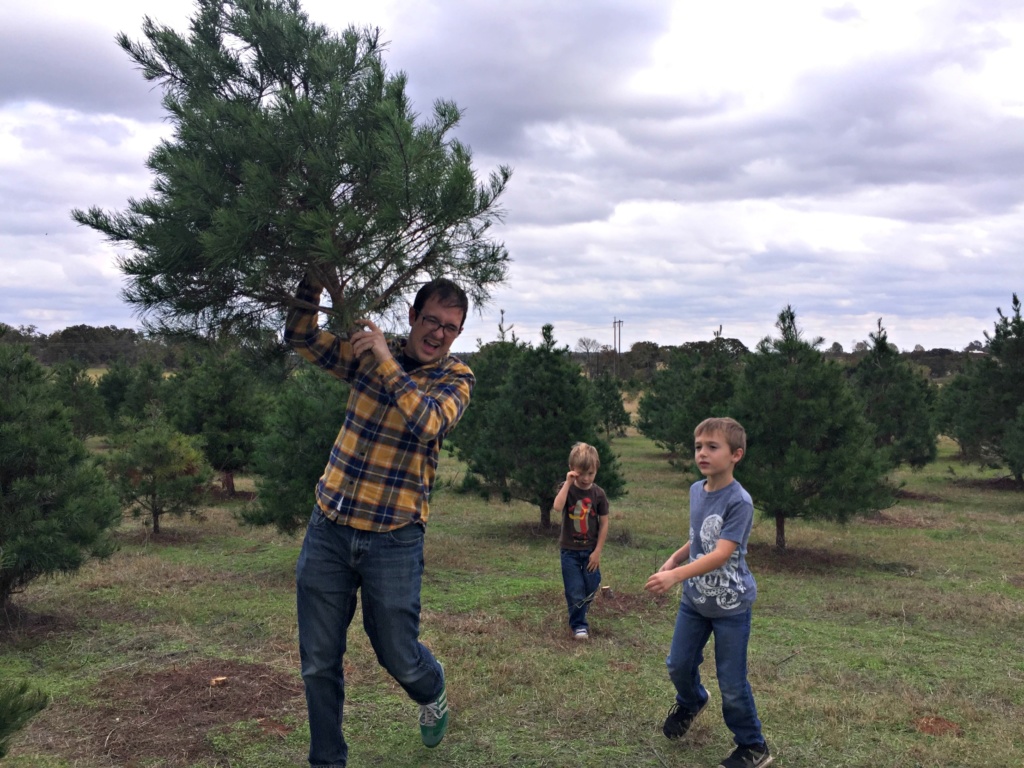 When our family was invited to check out the Elgin Christmas Tree Farm this year, I was so excited! We usually do a fake tree and I had never been to a cut-your-own tree farm before. I love the idea of bringing the kids to choose their favorite one, chopping it down ourselves (what little boy doesn't love a good saw?!), and even getting to take a hayride out to the trees.
My only hesitation was the impact on the environment. My seven year old son even called me out on it on the way to the farm. "Mom, I thought it was bad for the Earth to cut down trees!" I swear I can't tell my kids anything or they'll remember if for the rest of their lives. But I agreed with him and said we'd ask about it when we got there.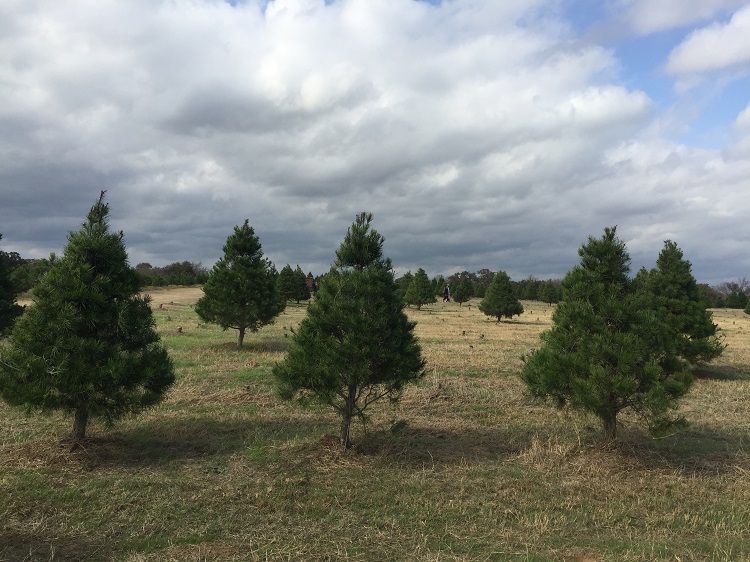 It turns out that Elgin Christmas Tree Farms has carefully considered the environment and plants three more trees for every tree that's cut down. That info made us feel so much better about the whole experience. We also learned that the trees they are selling this year were planted five years ago. Each spring they plant 4000-5000 Virginia Pine and Leyland Cypress saplings that take five years to grow to full Christmas tree size.
Elgin CHRISTmas Tree Farm: Our Experience 
The friendly greeters handed us a tree tag when we arrived and we were instructed to head over to the hayride. It didn't take long to wait in line, and the boys were entertained by the live animals nearby. We saw horses, goats, a pig, a duck, rabbits, and even llamas.
We rode the hayride to the fields of fully-grown trees. There were plenty of saws to use right there, so there's no need to bring your own tools. Once you find your tree and chop it down, you attach your tree tag and tear off the bottom half. A friendly staffer will load your tree back up into the trailer and bring it back to the front to be shaken out and wrapped up.
If you'd like to linger out in the farm a while longer, there are swings and picnic tables and even a tetherball!
Once you're ready, you take the hayride back with your tree. To fully get into the Christmas spirit while you're there, check out the Christmas Cottage gift shop for some unique ornaments and wreaths. If you need a tree stand for your freshly cut tree, they have those for sale, too!
My kids were ecstatic to sip on cups of hot chocolate over in the pavilion, little marshmallows and all. They also have a playground and a maze for the kiddos before making the drive home.
If cutting your own tree down isn't really your thing (not all of us aspire to be lumberjacks, after all), they also have pre-cut Frasier firs available for purchase. And good news for those allergic to pine trees: they have hypo-allergenic trees available for purchase as well!
One thing I need to mention is that dogs are welcome (on a leash), which means you really have to watch where you step (if you know what I mean). We almost dragged our tree through something that would have turned our green tree brown!
The scent of fresh pine filled our car as we drove our first real Christmas tree home. I'll never forget the precious memories that we made together as a family and am excited for our new Christmas tradition!
Elgin Christmas Tree Farm (120 Natures Way, Elgin) is open Monday – Saturday from 10 a.m. – 5:30 p.m. and Sunday from 12-5:30 p.m. through December 21, 2016. Prices for Choose N Cut trees range from $28-$134. Parking and admission are free! Discounts are available for military and first responders. Call (512) 281-5016 for more information.
Don't miss these great articles on more Holiday Fun in Austin!
28 Holiday Events in Austin
10 Things You Must See at Austin's Trail of Lights this Year
5 Tips for Austin's Trail of Lights
Holiday Light Displays in Austin
ZACH Theatre's A Christmas Carol
Where to Find A LIVE Christmas Tree in Austin 
Zilker Holiday Tree 
Where to Find Santa Claus in Austin