Last week, I had the amazing experience to attend the Solo: A Star Wars Story Press Junket in Los Angeles, which included the Red Carpet World Premiere of the movie, as well as interviews with Ron Howard, Woody Harrelson, Alden Ehrenreich and more (those interviews are coming out over the next week).  Today I want to tell you about my time spent with the beautiful Emilia Clarke, our newest leading lady in the Star Wars Universe. 
"From Mother of Dragons to the Star Wars Universe"
Emilia Clarke is tiny and petite and beautiful yet she dominates on the big screen in the upcoming Solo: A Star Wars Story as Qi'ra, Han's love interest and partner in crime. We all know her as the infamous Mother of Dragons on Game of Thrones but she creates a completely new character in this franchise and she does it so well, that you find yourself going Khaleesi who??  And I didn't think that was possible.
While in Los Angeles last week for the Solo World Premiere, we had the opportunity to interview Clarke and learn what it was like moving from one popular fandom to another.
Here's a hint – she does it very well. 
Emilia Clarke becomes Qi'ra
What resonated with you about your character Qi'ra?  Were there similarities between your personality and hers?
"I think that Qi'ra is definitely a survivor. She does what she needs to do to keep being around.  I think it's fun because you see her and Han from the very beginning, from kids.  And so you get to see where they both came from, when nothing was too serious.  They were just surviving and Bonnie and Clyding their way out of it.
And then they are separated and we see her later on in life. She's lived a huge amount in the short time that we don't see her.  And personally, I had to grow up really quickly.  Game of Thrones was my first job and it was a literal 'Baptism by Fire.' With that, you just gotta' hustle, you gotta' up grow up real quick.  So I think that was a bit of that, that I got, but not to the level of her at all."
How much of an impact do you think Qi'ra had on Han?
"I mean loads, hopefully. I think those first relationships are really important in shaping who you are as a person and I think this was a part of that.  That's the beauty of the movie is that every character is a part of the character that we know and love that Harrison (Ford) played later on.  Every character he meets kinda' plays into another little lesson that he's learned along the way that has allowed him to be who he is later on."
Were you intimated at all at playing the woman who came before Princess Leia?
"Well I just tried not to think about it.  I'm not gonna' lie. It's scary enough like standing under the Star Wars banner, but having that as well. It's before her, so I don't need to spend too much time worrying about that. I can kind of step away from that.  I'll let Alden take all that heat."
What was it like to be directed by Ron Howard?
"I mean amazing.  Jon Kasdan, one of the writers, told me & I kept saying, "You're joking, like I don't believe you. This is just ridiculous.  You can't actually really expect me to believe that Ron Howard has chosen come and direct this movie."  And that's when you're like, "Oh no yeah of course it's a Star Wars movie." 
So it was just a dream come true.  He literally couldn't have been better.  He just held us all in the most beautiful way and allowed us all to feel heard, which in a movie of this scale is so impressive."
Not we are Strong Women. We are just women. Strength is within us.
You always play such strong female role models. What was something different that you brought to the film to make sure that Qi'ra really stood out differently from your other strong characters?
"Well it's really difficult to not say too much do you know what I mean?  Some of that answer is definitely a spoiler, but there was a lot of discussions that I had with the creators of the movie to make sure that there were certain things in place that I felt were important for her and for the Star Wars franchise to have a girl that was strong."
So you do play really strong women.  How do you want young girls to look up to you?  What do you want them to come away with?
"I get 'you play a strong woman questions' a lot and I what I would love is to be seen as we're just women.  You can take strong out of the equation, do you know what I mean?  
It just is what we are, strength is within us as women.  And it'd be wonderful if for the young girls who are watching me play these characters now to just see that as a part of being a woman.  As opposed to it being a choice of like, "Oh I'm gonna' be a strong woman or I'm not gonna' be a strong woman."  You are! We all are.  You have it in you, so just go get it."
Game of Thrones, Terminator, Star Wars like you're literally at the top of your game right now. Which character did you find to be the most challenging?
"That's really tricky because Star Wars is challenging because you're dealing with so much history,  it's like hallowed ground, you know what I mean?  And making sure that you're not going to disappoint Star Wars fans is a big thing to carry and to make sure that you're doing that right. But Game of Thrones also needs to be brilliant. So it's kind of even probably."
How would you say Star Wars fans compare with Game of Thrones fans?  'Cause they're both pretty hard core.
"I know, but I feel like there is crossover. And I've not has as much experience with Star Wars fans because this hasn't come out yet.  My Game of Thrones fans are incredible and loyal and wonderful, but I do think that a lot of them are also Star Wars fans.  I think all of fans who enjoy Game of Thrones also enjoy Star Wars."
Performing in Theater is like Magic
You have performed in theater, television with Game of Thrones and now you're doing a major film.  Do you have a preference to where you prefer to perform?
"I think it's really important to do both stage and screen as an Actor 'cause when you do the stage it's like going back to Drama School. My Dad was in the theater.  He was the Sound Designer.  So I grew up being able to go back stage and there's magic in the theater and it's magic being part of an ensemble that is unlike anything you could ever get when you're filming on screen you know.  
(On a film or television) you're in your trailer doing your thing. And sometimes the person is not even there for your close up because it physically doesn't work for the eye lines and stuff.  Whereas in the theater every single night you're with your squad. 
You're with your ensemble and you're working together to make something different every night and to me it feels like actual magic.  Like it's the most beautiful thing ever, but it's really exhausting and it sure don't pay the rent."
Becoming a part of the Star Wars Universe
When did you become a Star Wars fan of the entire franchise?
"My brother was a huge fan.  So when I was little we would dress up as a Halloween. I didn't know what was going on.  I'm like, "Okay, cool I'll hold this thing and I'm like put some wires onto my head."  But then when Episode 7 came out and I watched it with him,  I became a fan because I suddenly realized what everyone must have felt in 1977 when it first came out.  The enormity– like this is how a movie should be made –  this is a blockbuster.  As soon as that happened I was like, "I need to be a part of this.  This is how it's done.  This is how everybody should make a movie."  So it was kind of from then on I just watched everything and then now I'm here." 
What was your brother's reaction to you becoming a part of the Star Wars legacy?
"I think he maybe screamed louder than me. It's really impressive.  His Star Wars fandom came out."
How does it feel now to be like part of the Star Wars merchandise? We heard you always wanted to be a LEGO?
"No it's amazing.  My Godson is like, "I'm sorry honey but you're just gonna' have all the merchandise." I go, "Do you recognize her, do ya?"  I'm very happy."  
If you were to join the Marvel Universe which character would you be?
"Oh my God, I don't know.  I actually don't.  I wanna' say The Hulk. I'm like, "Yo, Mark watch out honey."  He seems like he's having the most fun like out of everyone."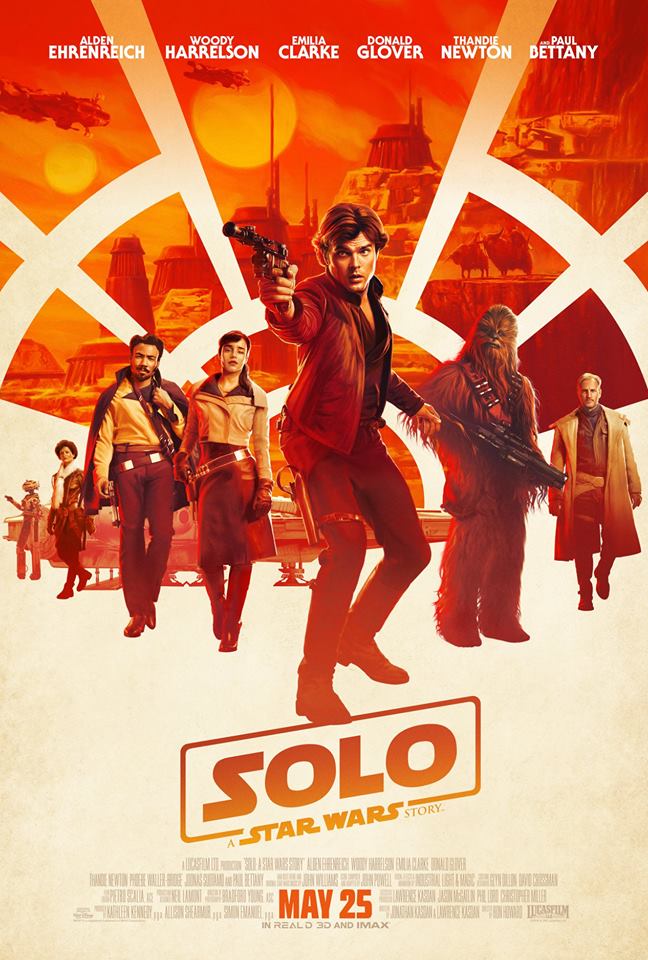 Solo: A Star Wars Story opens in theaters nationwide Friday, May 25, 2018
Other Articles from the Solo: A Star Wars Story Event you may enjoy:
I'm Going to the SOLO: A Star Wars Story Red Carpet World Premiere in Los Angeles!
My Experience at the World Premiere of Solo: A Star Wars Story (I Met Mark Hamill!)
7 Secrets from the Set of General Hospital
Star Wars Fans Will Not Be Disappointed – Solo: A Star Wars Story Review 
Alden Ehrenreich Takes on the Pressure of Creating a New Han Solo
Emilia Clarke – The Newest Leading Lady of the Star Wars Universe
Ron Howard Takes on the Star Wars Franchise
Paul Bettany: How Do You Go from Vision to Villain?
Meet the New Chewbacca – Joonas Suotamo
The Newest Droid in the Star Wars Universe: Phoebe Waller-Bridge
Woody Harrelson: A Star Wars Hero or Villain?
Disclaimer: Disney sent me to Los Angeles on an all-expenses paid press trip, in exchange for my coverage of the red carpet premiere of Solo: A Star Wars Story. All opinions are my own.