Hawaii
is a very popular
year-round vacation
location.  Sadly, I have not been.  But I am very lucky to have friends who have and love to write all about it – making me insanely 
jealous
inspired.  Nicole recently visited Kauai and has some great ideas on
what to do while on Kauai as a family
.
Paradise aka the island of Kauai.
My husband has a love affair with Kauai. I must admit, she's beautiful, fun and full of adventure. What's not to like?
I feel very lucky to have visited Kauai three times — two with my now seven-year-old son, and once on our babymoon. You see, we were hoping to visit Hawaii on our honeymoon, but then 9/11 happened and airfare was sky-high. So, we told ourselves we would go on our fifth wedding anniversary, but then we jumped the gun by a year so we could go before starting our family.
As you might expect, each Hawaiian island has its own culture and feel. Having only been to the Big Island of Hawaii and Kauai, I can't talk much about the others, but we first chose Kauai because of its stunning beauty, its slightly-less-touristy feel and the outdoor activities we knew we'd enjoy: hiking and beaches. Each visit, we have new experiences, revisit our favorite places from other trips and leave feeling that bittersweet mixture of emotions that come once a vacation ends. Happiness that we had the opportunity to take the trip of a lifetime more than once, excitement to return and share our stories with friends and family and just a little relief to sleep in our own bed and get back to the normal routine.
On our trip in 2011, we stayed near Kalapaki Beach at a resort.
What I have learned is that even on one relatively small island, there are many variations. The North Shore, near the town of Hanalei, has a raw sort of beauty, rain is a daily occurrence and the feel is more suited to our family of three. The South Shore, close to Poipu, is warmer, has more periods of sunshine, has more easy beach access and has restaurants and grocery stores in closer proximity.
It's no secret that travel to Kauai is expensive: first, the cost of airfare can be jaw-dropping, then you have to factor in lodging and the cost of food and activities once you are there. To cut down on costs, on our most recent trip in June of 2013 we stayed at vacation rental properties with kitchens and ate two meals in. We also mostly avoided pricey tours and spent most of our time at free beaches and on other lower cost activities. We (my husband) did a lot of research, using resources such as the Ultimate Kauai Guidebook and TripAdvisor. In the hopes that we can save you some time (and, possibly some money) if you are planning to visit, here are our suggestions on how to make the most of your family vacation to Kauai.
See It
Kauai is a feast for the eyes. It's otherworldly. When I'm there, I feel as though I should pinch myself multiples times — it's that beautiful. It's no wonder so many movies are filmed there (Fantasy Island, anyone?)
That said, if you visit, keep your eyes open as you travel from one spot to another. Driving across the island doesn't take long, and you'll want to do your best to drink in the scenery and imprint it in your brain, for the next time you need a Zen moment when you are back home. One of the must-see places on Kauai is Waimea Canyon State Park, which is in the western part of the island and is often referred to as the Grand Canyon of the Pacific. Yes, you can plan a trip to hike, as well, but just driving up to the summit is well worth a few hours.
The Waimea Canyon Lookout
Thankfully, there are multiple stops along the way to pull over and take in the scenery (be prepared for your kids to get out at the first or second stop and opt to stay in the car for the rest). Watch your car's outside temperature gauge drop as you climb and leave your windows open to breathe in the fresh air. You can picnic part of the way up if you need to stretch your legs. Definitely get the kids out of the car at the Waimea Canyon Lookout and the Kalalau Lookout. The Waimea Canyon Lookout is where most of the tour buses stop, so be prepared for more crowds there. That said, there is plenty of space at the lookout for you to oogle at this panoramic view of the Canyon. This is the time to ask other visitors to take photos of your entire family (definitely holiday card material!)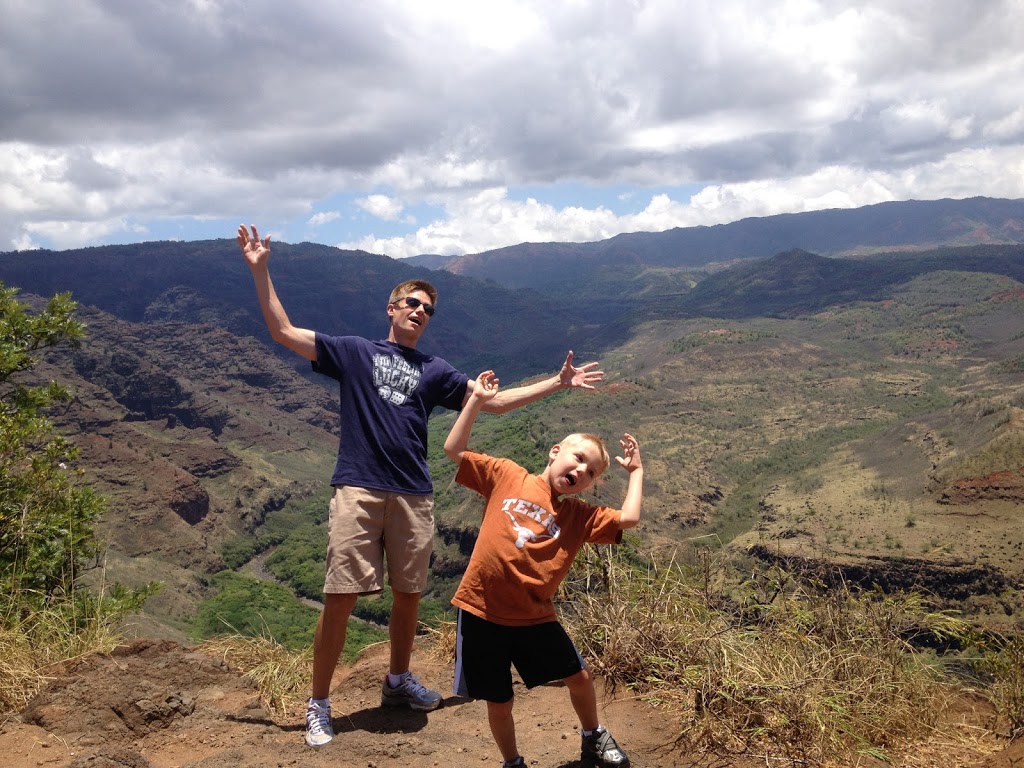 Boys will be boys.
The Kalalau Lookout, the "end of the road" as you ascend, might be the most beautiful view on the planet. You can see helicopters, buzzing in the distance, getting close-up looks at waterfalls and the unparalleled scenery. The tour buses don't go this far, so this stop is less crowded and a great place to use the restroom before taking the road back down, out of the Canyon. Just a note to those of you with carsick-prone kiddos: the roads are super-curvy, so be prepared. The local custom is to pull over when someone is trying to pass, so you can always choose to do so at a scenic overlook if you need to take it slow(er).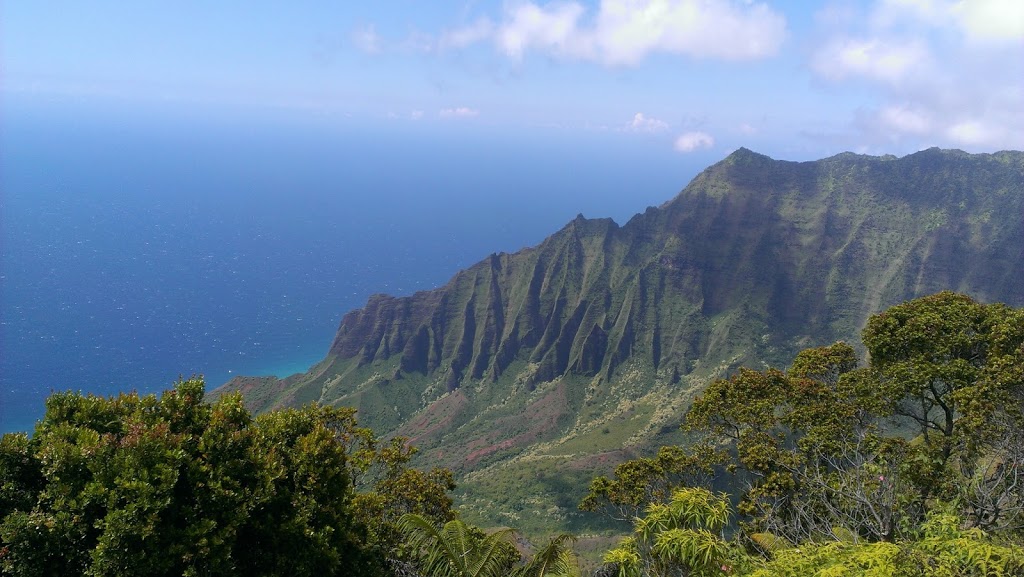 Stunning. The Kalalau Trail Lookout.
Another place we enjoyed "seeing" Kauai was at the Kilauea Point National Wildlife Refuge, on Kauai's North Shore. The first time we tried to visit, the Refuge was closed, but there is still a nice area from which to take a photo of the Kilauea Point Lighthouse. Later in the week, we visited and learned that the Lighthouse was dedicated in 1913 and had recently been renovated for its centennial. Inside, kids and adults could borrow binoculars to look at the red footed boobies (don't laugh – my kid now has a stuffed animal!) on the adjacent shoreline and albatross on small island just off the shore. We happened to visit when the wedge-tailed shearwaters laid their eggs (one per burrow, which are partially hidden in vegetation), so we got to see a lot of eggs and mama birds. Cool!
Checking out binoculars (free!)
Kiluaea Lighthouse.

Paddle It
Another great way to experience Kauai is to kayak. You'll see plenty of ocean kayakers, but we stuck to the rivers. First, we rented a kayak near the North Shore and took a leisurely paddle up and down the Hanalei River. It was nice to go at our own pace, and having all three of us in the same kayak was convenient. It rained on us several times during our paddle (which we Texans weren't accustomed to!) but the river was easy to navigate and it wasn't very busy on the river.
Kayaking on the Hanlei River.
Later on in our trip, we took a guided kayak tour from Kapa'a up the Wailua River, did a short hike and had the opportunity to swim under a waterfall at Secret Falls, which is only accessible via kayak. It was great to have the added benefit of a guide to give us background about the area, and nice to be in a group after being on our own for most of the trip. The hike was definitely doable for our seven-year-old and ending up at the waterfall was absolutely a highlight of the trip. As an added bonus, our son made a friend in the guide and talked to him during a lot of the hike and even rode back with him in his kayak. It was nice for my husband and I to get a little break from discussing the ins and outs of Angry Birds Star Wars.
Our guide AJ was a very good sport.
Hike It
You can see many beautiful places on the Garden Isle on foot. One of the most popular hikes is the Kalalau Trail on the Napali Coast. The trail is 11 miles in its entirety, but there is a two mile segment that we hiked with our son which ends at Hanakapi'ai. We were a little hesitant to try it, but I'm so glad we did! The hike had plenty of ups and downs, and we had to take a few snack breaks along the way, but we were rewarded with an amazing (but not swimmable beach) at the end. The end of the hike took you through a stream that emptied into the ocean and on the beach there were several huge caves to explore (and some gigantic mating frogs!) After the two miles back, if you have the energy, you can swim at the picturesque Ke'e Beach. My son was done after the four miles, but talked for days about how much his muscles grew because of the hike.
The view out of one of the caves at Hanakapi'ai.
Another hike we took our son on was a relatively new spur trail we literally stumbled upon at the Puu Hinahina Lookout at Waimea Canyon. The trail was just recently added to connect to two other popular trails. We were taking a red eye out that night and had time to burn, so we did the 1/3-1/2 mile hike, which included a lot of switchbacks and climbs, but ended with a nice view of the Canyon. If we would have had more time, we might have tried hiking down to the waterfall. Visibility in Waimea can vary based on when you are there, so if you go on a cloudy day, look for a break in the clouds and get a bunch of photos when the sun is out.
Working off those shaved ices.
Swim It
It goes without saying that when you visit the Hawaiian Islands, you will be spending plenty of time at the beach. It's likely that you could visit a few new beaches every day, throughout your whole vacation, and still not visit all of the beaches on the island. We used our five hour time difference to our advantage — since we woke up super early at the start of the trip, we would head out and often be the first ones at a beach, sometimes for hours. From visit to visit, we have had different beaches we have enjoyed. This trip, we happened to talk to a woman who has visited the same beach twenty years and said the beach was totally different this year than the previous years.
Yes, that is a rainbow behind my child.
One thing that takes a little getting used to is that not all beaches are swimmable. Some have strong currents and some have strong waves. But this never really stopped us from enjoying the beaches. In addition to all the usual beach activities, like building sand castles, jumping in the waves and looking for shells, many of the beaches have volcanic rocks nearby which fill with water and provide you with a veritable aquarium. Crabs, fish, snails…you name it! Depending on where you are on the island, you also might have the chance to see a monk seal chilling on the beach or watch turtles munching on seaweed from the shore.
One beach we visited which was particularly kid-friendly was Lydgate Beach Park in Kapa'a. At first, the sea looks intimidating, but then you see the two large pools ringed with volcanic stones, making them as calm as a lake. One is more shallow than the other, and in the larger pool, there is a surprising array of sea life. We had packed a snorkel set in our suitcase and we hadn't had much luck getting my son to try it out, but Lydgate turned out to be a perfect place for him to have his first snorkeling experience. On a side note, while we were at another beach, a parent recommended buying the Hawaiian version of Go Fish, which we later picked up and which proved a lifesaver for our downtime at our vacation rental. Plus, it gave our son a way to remember what he saw snorkeling at Lydgate!
Later, we had to tear my son away from the massive wooden playscape located just behind the beach. We could have easily spent more time at Lydgate, but we had to leave to do our kayak tour.
Just a small portion of the gigantic playscape at Lydgate.
Other beaches which are popular with kids and families are Ke'e, Tunnels and Lumahai on the North Shore. Ke'e and Tunnels are relatively shallow and have crystal clear water and draw lots of snorkelers and scuba divers, so you have to arrive early to get a close parking spot.
Taste It
No vacation is complete without food, and there is a lot for families to enjoy in Kauai. Our first stop off the plane, before we could check in to our vacation rental, was a farmers' market. Here, my son sampled his first island coconut, thanks to a local who filled the back of his truck with an ample supply and used his trusty machete to cut off the top and put a straw in the hole. Since we knew we'd be eating meals our house, it was nice to stock up on veggies and fruits to have, as well as have another island treat: a frozen banana, dipped in chocolate.
It's hard to resist a fresh coconut right after you get off a plane.
Speaking of treats, we probably overindulged on our trips. I am the only fish eater in the household, but I certainly took advantage of all the fresh fish on the menu. Meanwhile, my husband and son took it upon themselves to try shaved ice at virtually every stand they passed, and they were rarely disappointed. Shaved ice pieces seem smaller than in a traditional snow cone, so the ice mixes really well with the syrup, and we usually opted to add macadamia nut ice cream to the bottom of the ice, which went really well with the fruity syrup. Another favorite was POG, which is a drink made from pineapple, orange and guava juices. Technically, what we enjoyed during our trip was Hawaiian Sun, which is sold in grocery stores and comes in several different flavors.
One of our many shaved ice pit stops.
When we visited Waimea, we were lucky to sample some fresh sugar cane from a stand, which is so incredibly tasty and not at all like the sugar cane stalk that some bars put in mojitos. It came chopped up into bite sized pieces in a small plastic container, and we were instructed to chew it and spit the fibers into the trash. I wasn't able to find sugar cane in the grocery store, but I'm guessing at farmers' markets it might be easier to track down.
Another experience which was very unique to Kauai was going on a chocolate tour. We had been on coffee tours on the Big Island, and had learned that locally-produced chocolate was new to Kauai. While we were at a fruit stand, we noticed a brochure for the chocolate tours given by Garden Isle Chocolates. Since chocolate is one of my favorite foods, we decided to go for it. Our son was the only kid on the tour (and was free), which included about six other couples, but he enjoyed a few of the chocolate samples after declaring that he was "more of a milk chocolate fan". On the tour we learned about a lot of the crops routinely grown on the island, such as avocado, banana and mango, and had a chance to learn about some more exotic plants, such as the kaffir lime and the allspice tree. I didn't think it was possible, but I managed to overdose on chocolate that day!
Koa at Garden Isle Chocolate shows us a cacao pod. We even got to taste the fruits, which bore little resemblance to the finished product.
It really is hard to believe that we have gotten to experience so many things on what you might consider a small island over three separate trips. Kauai is really a feast for the senses, and so I hope you have enjoyed our perspective on how to take advantage of your time on the Garden Isle. Mahalo!*
Cute moment from our 2011 trip.
* You hear this a lot on the islands. Mahalo means both thanks and goodbye in Hawaiian.
A native Austinite and soccer-playing mom, Nicole Basham uses her 7-year-old son as an excuse to rediscover her hometown and the world through his eyes. In Thoreau's words, her mission is to "suck out all the marrow of life", or in her son's words, to cultivate in him a love of "advenchers". You can find her writing on sites like LiveMom, Savvy Source and Free Fun in Austin.