Heading to the southwestern coast of Italy?   One of our guest authors, Helen Novielli, shows us how to five day trip from Sorrento, Italy to see a different side of this beautiful country. 
Just south of Naples, on the southern end of the bay, is the alluring seaside town of Sorrento. The vistas across the bay, north to Naples and Mount Vesuvius are incredible. There are brightly painted buildings, cliffs and beaches, a staggering amount of citrus fruit, and kind, welcoming people everywhere. Sorrento has plenty to offer on its own with museums, artisans, history, and shopping. But it serves wonderfully as a beautiful base from which you can explore the region on several day trips.
Five Day Trips from Sorrento:

Pompeii
You can get to Pompeii via the Circumvesuviana train. Remember, children ride free! The train takes a little time, but it's a straight shot from Sorrento. Morning trains will be full, but you'll want to go early to enjoy as much of Pompeii as you can. This is definitely a full day trip.
The Pompeii site has restrictions on what you can bring in, but there are lockers available. Double check the website before you go to make sure you'll be able to carry what you want and anything you specifically need. Then, once you get there, grab a couple guides and maps and get ready for a remarkable day.
I was overwhelmed by the sheer size of the ancient city. I didn't expect it to be so large and so well preserved. I've been through Roman ruins that were nothing but one layer of bricks and markers on the ground. Not the case here- full walls, partial buildings (some two stories!), and intact streets. Your day will be full of walking, often on cobblestones, so wear good shoes, bring water bottles, and make note of the location of the small restaurant inside.
Five Day Trips from Sorrento:

Naples
If you'd like to visit a bustling, vibrant city in the middle of your day trips to small towns and ruins, Naples is your best choice. There are a couple ways to get there, namely the Circumvesuviana or a ferry. The train is cheaper, but takes longer; the ferry is fun and getting to the departure point in Sorrento is an adventure in itself.
Naples contains the national archeological museum with the artifacts from Pompeii and Herculaneum. Touring Pompeii before Naples lends itself to a much more interesting view of the museum. Other fun stops include the stunning opera house, Teatro di San Carlo, which offers tours; two imposing castles, Castel Nuovo and Castel dell'Ovo; and a number of wonderful art museums.
Five Day Trips from Sorrento:

Amalfi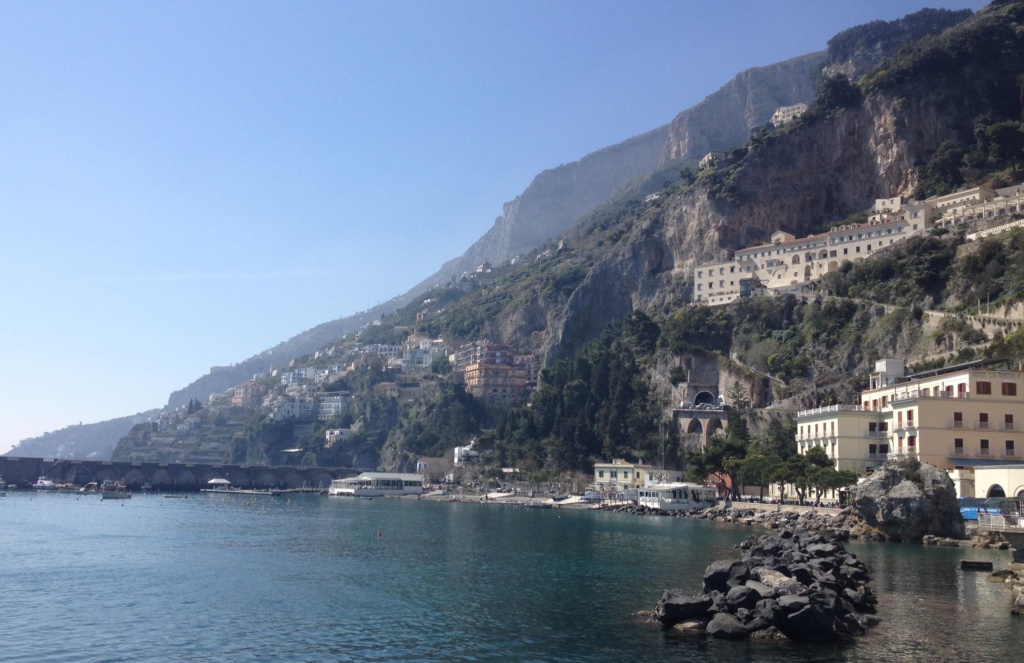 The Amalfi coast is an exciting daytrip from Sorrento. Surprisingly, the city bus, which you can catch in front of the train station, is the easiest and cheapest way to get there. Pay attention to the departure times and try to arrive early for the bus you wish to take so that you can get a window seat. On the way to Amalfi, you'll want to sit on the right hand side (facing the front) so you can see the astonishing clifftop views and sheer drops.
Be prepared for a windy, twisty, thrilling ride. The drivers are excellent, but don't be surprised if you have to stop, reverse, and wait for other busses and cars to pass through tricky turns, tunnels, or other tight spots. The drivers beep as they get to blind curves, and there are plenty of them, so you'll hear the horn quite a bit.
Between Positano and Amalfi, keep an eye out for little village replicas tucked into the hillsides in the curves of the road. There are just a couple and they can be hard to catch, but they are fascinating. One of the larger ones, the Grotto di Fornillo, can be walked to from a bus stop in Positano. This little replica is a presepe, or nativity scene, of which there is a grand and ornate tradition in Naples and includes much more than just the traditional manger scene.
Once you get to Amalfi, there are lots of shops to wander through and plenty of restaurants. Look for handmade paper items, a specialty of the area. Make your way down the side streets to the area behind the waterfront to find the Piazza Duomo and the Cathedral of Amalfi, a lovely 9th century church. Sitting in the piazza with some gelato is a great way to end the afternoon.
Five Day Trips from Sorrento:

Capri
The prospect of visiting Capri had me imagining I was a 1950s movie star vacationing in Italy. I was so excited to see that old glamour. If you want to visit Capri, there are several tour options leaving from Sorrento and Marina Grande. We visited in early spring and booked a Capri tour leaving Marina Grande. You can book online or visit the small tour office located in the center of the small Marina Grande community.
Depending on your tour of choice, plan to travel to Capri and have time to sightsee and wander around. Make your way to the top of Capri via the bus or funicular. There are shops, restaurants, delightful gardens, and plenty of photo opportunities. You can return to the harbor in the same way, or check your maps and find the path that winds down through the neighborhoods. We chose to walk it and saw some interesting homes, gates, and little local things you won't see via bus. Keep an eye on your map, though, as sometimes you pop out on the road and will need to double back to catch the path again.
The second part of our tour was via boat around the entire island. We stopped at several of the grottos and, though it was late March, one brave soul jumped in for a quick dip. We saw some gorgeous villas in Anacapri, the more residential and reserved side of the island. By far the most breathtaking part of the tour was approaching I Faraglioni, the extraordinary rock formations on the west side of the island. While we didn't get as much history on this daytrip, the scenery was well worth the outing.
Five Day Trips from Sorrento:

Paestum
Paestum takes a bit of time to get to, but it is entirely worthwhile. These Greek ruins are incredibly well preserved and the size and scope of the site is unbelievable. This site has five Greek ruins, including three temples. The rest of the ancient site is Roman. This site was never buried like Pompeii, but mostly left alone so the Greek temples are in impeccable shape.
There is a museum where you can purchase your tickets and also audio or print guides. From the museum, you walk back down the street to get into the site. Once inside, you can wander from one end to the other as long as you like. Be sure to leave the path and check out the Roman ruins. It's almost like a scavenger hunt to find the unmarked tiled floors, painted walls, and other hidden features that still exist.
If you find yourself ready for a meal as you approach the temple of Hera, there is a restaurant within walking distance. We wandered over and sat outside on the terrace for lunch and thoroughly enjoyed the view of ancient temples while we ate. After you finish exploring the Greek temples, visit the museum to see beautiful frescoes and artifacts from the site. The holdings are amazing and there is a lot to see.
This was by far my favorite day trip and well worth the hours spent on the train from Sorrento north to Naples, and then the second train south to Paestum. Paestum is a bit out of the way and taking the trains was the most economical and least time consuming way to get there. Alternatively, you can rent a car or take a bus, though taking a bus makes this a difficult trip to do in one day.
Any combination of these trips will make for great additions to a stay in Sorrento. The area around the Gulf of Naples is rich in history, art, and ruins. You can't go wrong with any choice you make; the hardest part will be fitting it all in!
Also check out 6 Steps to Exploring Rome with Kids