When we started planning our 5 week Austin 2 Boston road trip, there was a little bit of discussion as to if New Orleans was going to be on our itinerary.  We just didn't know if New Orleans would hold enough interest for my kids.  It's known as such the party town, before I began to look into it, I assumed there wasn't going to be much for the kids to do.
But once I found French Quartour Kids in New Orleans, I knew that we had to add it to the trip.
French Quartour Kids
New Orleans history is fascinating to me.  And I wanted a way to show my kids this incredible city without the tour going over their heads.  French Quartour Kids specializes in informative yet fun tours geared to different age groups.  Specializing in ages 4-17, the tours are fun and interactive, even for the adults.
As I have 2 different ages in my 3 kids (14, 12, & 6), we decided to gear the tour to the older ones with a Creole Kids Tour as I wanted my big kids to be able to get more out of it:
The Creole Kids Tour takes kids back to the "Golden Era" of New Orleans. Come live like a rich Creole Kid! We'll find out what life was like for kids back then: free vs. enslaved, American vs. Creole, boys vs. girls.
Our tour guide made sure to add in a little of the younger kids humor and stories too.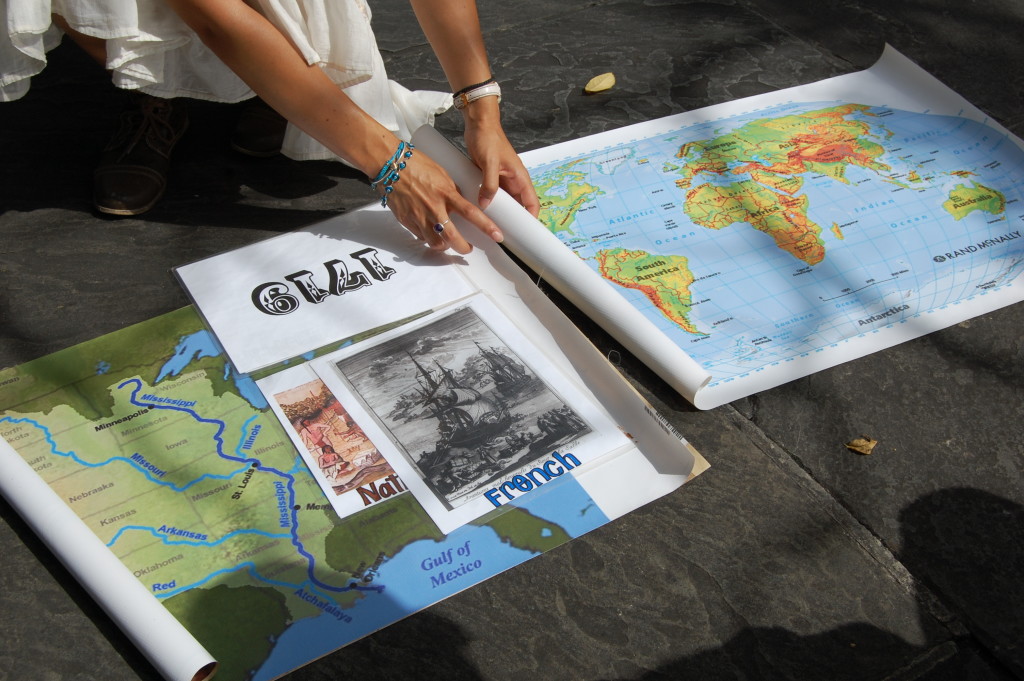 Our tour started at the Mississippi River and we started at the beginning, with the primary settlers to the area – Indians, French, Spanish, Africans, leading up to the Louisiana Purchase. Our guide pulled out maps and props to make it more interactive and to keep the kids involved, although she didn't really need to, her stories were fantastic.
We walked over to Jackson Square where we learned what is was like to be a kid  growing up in New Orleans – from girls and what they wore, to boys and their duels and even bathing habits – makes you so thankful to live in the era we do!  My boys were even taught a few rules of fencing and staged a duel.  For younger kids, there is a treasure hunt that goes through Jackson Square.
Our tour continued through the French Quarter, where we heard stories and were shown unique aspects to the buildings. It lasted about 90 minutes, making it the perfect amount of time to keep all 3 of my kids interested.
Our tour guide was extremely knowledgeable and could answer all the questions my kids threw at her. She had funny stories and was very charismatic, my kids adored her.  She made learning fun for them.  And for me, it was a perfect brush up of Louisiana history.  I highly recommend booking a tour if you are visiting New Orleans with kids.
French Quartour Kids Details
French Quartour Kids has 3 types of tours – Tiny Tours (4-7 year olds), Creole Kids (7-13 year olds), and History's Spooky Mysteries (7 – 13 year olds). Kids under 4 are free.  Learn more and book online here.
Here are some other helpful New Orleans articles you may enjoy:
7 Things to Do in New Orleans with Kids
6 Things to See at Oak Alley Plantation
Sheraton New Orleans
Disclosure: My family was invited to take a French Quartour Kids Tour. I was not compensated for this article. All opinions are my own.