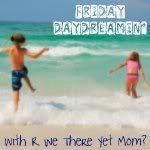 Yay! It's time to daydream!! My favorite time of the week, as I LOVE to travel and I LOVE to see where all you have been!!!
Last week, I asked everyone to send me their favorite travel pictures form 2011 and I had a tremendous response!! So instead of posting just one daydreamin' picture today, I opted to post all of your daydreams!! Take a look at all the places we have been and fun we had in 2011:
Fun, right?? Thanks to everyone for all the great pictures!! I so enjoyed making the movie (thanks to my side business,
Darling Memories
)!!
Link up your Friday Daydreams here and make sure to take the time to visit a few daydreams too. Everyone loves to get comments!!
Have a super weekend!