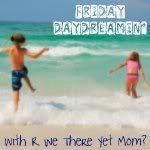 Happy Friday!! I am so ready to Daydream! Mother Nature has had fun with us here in Texas this week with rainy days, cold nights, and sunny afternoons!! It really just makes me long for those consistently sunny Spring days…and the fun that come with them!!
I'm Daydreamin' all about Spring Break here today!! I just love the sunny weather that makes us want to get outside. We typically don't travel for Spring Break, so we like to find fun local things to do during the week. One of my favorite day trips we took a few years back was to the
Natural Bridge Caverns
in New Braunfles, TX. We took a guided tour of these gorgeous caverns that are 180 feet below grounds and loved every minute of it. These caverns have been around since when I was a kiddo with this crazy orange dino on the grounds – I even have a picture around somewhere of me posing on top like my kids did!
I want more fun days like this with my kids, so I am already planning for Spring Break 2012!
What are you daydreaming about today? A fantastic vacation? A local park? Your bucket list? Your favorite pie from this mom & pop shop you visited on your last trip home? Tell us about it!!! Put a picture on your blog, tell us a bit about it and link up! I love daydreaming along with you!!
I'm also linking up with Budget Travelers Sandbox for Travel Photo Thursday and Delicious Baby's Photo Friday. Check them out for more amazing travel photos!