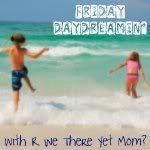 In honor of this very special day, please take a moment to reflect on the Veteran's who served in your life. Tell us about them over on your blog, post a picture, and link up with us today. These brave men & women sacrificed to allow us the freedom we enjoy today. And they deserve to be recognized.
One of the most important Veterans in my life is my husband. Matthew served 4 years in the Air Force, in Security Police. He served in crazy places like Wyoming and Korea, protecting the bases he served on. While I was enjoying my college freedom, he was growing up quickly with a great deal of responsibility.
Each year, my children's school puts on a Veteran's Day Celebration and asks all the Veterans to come and be honored.
This was the first year my son had been a part of this, so when he saw his dad getting recognized, his heart swelled with pride. When the program was over, rather than file back to his room with his teacher, he broke free from the crowd, ran to his dad and leapt into his arms. It was so great to see my little guy really get what his dad had done for his country.
I would love to hear about those Veterans that have touched your lives too. Will you please post and link up?
And if you have a vacation photo already prepared for this Friday, please feel free to link away as well!! I would NEVER turn down a chance to daydream about vacations…..