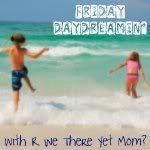 Happy Friday!! In less than a week, we will all be getting our thankful on! WOO-HOO!! Thanksgiving is one of my favorite holidays – family, food, fun, no obligations….. I love it!
Do you travel for Thanksgiving? For us, it depends on the year – We don't have any definite "Thanksgiving Day" traditions, but we do spend it with family.
Last year, we traveled to a Ranch in Southeastern Oklahoma – It was absolutely BEAUTIFUL – not at all what I expected Oklahoma to look like. We stayed in a wonderful cabin, by a lake and woke up to this view every morning:
We are heading there again this year and I can't wait to get back!!
Do you travel for Thanksgiving? Tell us about your travels this week on "Friday Daydreaming". Or tell us about your favorite vacation ever. Or tell us about the great park down the street that makes you & your kids feel like you are on vacation. Or tell us about that amazing slice of pie you had on last summer's road trip. So many great topics to blog about – make sure you link up!!