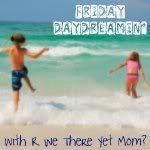 Is is really November already?? How quickly time flies – it feels like it was just yesterday that I had my toes in the sand on the beach. The warm sandy beach in Florida that is.
This time last year, we visited a different kind of beach….
On the Olympic Peninsula, we had a glimpse of the cold Pacific Ocean and became beachcombers for the afternoon. We had the beach to ourselves to climb the driftwood piles and write in the sand. The kids were fascinated with the water and I was mesmerized by the snow-covered mountain peaks in the distance. It was a wonderful afternoon.
Where does this early November Friday have you Daydreamin' about?? Post a picture of what you are daydreamin' about and tell us about it! Don't forget -this doesn't just have to be a vacation site – favorite local hang-out? Favorite place to play with the kids? Dream vacation? Tell us!! Make sure to link up and spend a few minutes visiting all the other daydreams!
I learn about so many fascinating new places on Fridays!! Thanks for linking up!