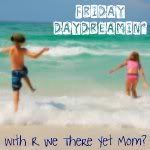 Hello and welcome to Friday Daydreamin'! Last week was our inaugural week to share daydreams and we had 14 blogs to visit & daydream! It was AWESOME!! I enjoyed seeing you pictures of Mexico, pictures at the beach, pictures of SNOW, and more. I can't wait to see where this week takes us!
Ready to Daydream your Friday away? It's simple!
1. Post your favorite vacation picture and tell us a little about it.
2. Grab the "Friday Daydreamin'" button and link up your post below.
3. Visit some of the other amazing vacation photos that have linked up (and leave some comment love!)!
4. Let the Daydreamin' begin!
Today takes me to cooler summer temperatures, as we are dying in this 110-degree days down here in Texas. A few summers ago, we had the chance to attend Family Camp in Washington. It was the perfect weather for it – chilly in the morning and just barely warm enough to swim in the afternoons. We rode horses, did arts & crafts, canoed, swam, toasted marshmallows by the fire, and even slept in a boxcar. But the best part of the week? Waking up each morning with Mt. Ranier in my backyard.