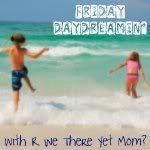 Hello and welcome to Friday Daydreamin'! This little Friday fun is picking up steam!! We had 16 daydreams to visit last week! It was fantastic!! I enjoyed seeing your pictures of Colorado, pictures of you camping, and even a fun picture of a pigeon!! I can't wait to see where this week takes us!
Ready to Daydream your Friday away? It's simple!
1. Post your favorite vacation picture and tell us a little about it.
2. Grab the "Friday Daydreamin'" button and link up your post below.
3. Visit some of the other amazing vacation photos that have linked up (and leave some comment love!)!
4. Let the Daydreamin' begin!
Today's daydream is in honor of my sweet kiddos. They return to school next week and I am going to miss them. We had such an incredible summer together and had many fun adventures. One of which involved a date in a really fun pit of B-I-G balls! This was just one of many amazing things to do at the
City Museum
in St. Louis. The 3 of us had a day of fun crawling around in tunnels, racing down crazy slides, riding a ferris wheel on top of a 13-story building, and finishing with HUGE ice cream sundaes. We laughed all day. It will go down as one of my favorite days of the summer.
Make sure you link up your Friday Daydreams below. Visit a few of the other Daydreams and leave some comment love!!