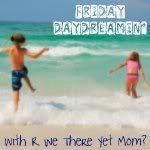 Hello and welcome to Friday Daydreamin'! Are you ready to end this week with a little "vacation photo hoppin'"? Well, after the first week of school, our house could use some down time. Which is why Friday Daydreamin' is the perfect way to start your weekend off right! So, link up your photo, grab a cup of coffee, and off you go!
Ready to Daydream your Friday away? It's simple!
1. Post your favorite vacation picture and tell us a little about it.
2. Grab the "Friday Daydreamin'" button and link up your post below.
3. Visit some of the other amazing vacation photos that have linked up (and leave some comment love!)!
4. Let the Daydreamin' begin!
Even though I lived in Central Illinois for a few years, AND go back to visit at least once a year, I have never made a point to visit
Abraham Lincoln's tomb
. As the kids and I were up north for several weeks this summer, we took in all the local history – President Lincoln's home, his law office, the courthouse he practiced in, and yes, we finally made it to his burial site.
While there, we all participated in the local folklore that by rubbing Mr. Lincoln's nose, we would receive good luck. You can see all the rubbing poor Mr. Lincoln's nose gets, as it is nice and polished! As the baby watched his older brother & sister rub away, he insisted in joining in the fun.
So Bubba, here's to your good luck!
Make sure you link up your Friday Daydreams below. Visit a few of the other Daydreams and leave some comment love!!