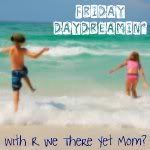 Hello and welcome to our first Friday Daydreamin'! Ready to Daydream your Friday away? It's simple!
1. Post your favorite vacation picture and tell us a little about it.
2. Grab the "Friday Daydreamin'" button and link up your post below.
3. Visit some of the other amazing vacation photos that have linked up (and leave some comment love!)!
4. Let the Daydreamin' begin!
Where do I wish I was this very HOT Friday? At the beach, with my adorable two year old, learning how to cope with sand on his nose, wet sticky clothes, and 2 older siblings going crazy in the waves. He is taking it all in and trying to decide if he likes it or not. Does his momma like it? Oh yes,very much! The warm sun, cool breeze, salty smell to the air, kids laughing in the surf……I wanna go back!!
Can't wait to see where your daydreams take you!