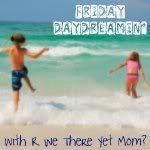 Hello and welcome to Friday Daydreamin'! I am off in the Big Apple today – actually LIVING OUT a daydream! But that doesn't stop Friday Daydreaming from happening in bloggy land! Post a picture, tell us about it, and Link Up.
Ready to Daydream your Friday away? It's simple!
1. Post your favorite vacation picture and tell us a little about it.
2. Grab the "Friday Daydreamin'" button and link up your post below.
3. Visit some of the other amazing vacation photos that have linked up (and leave some comment love!)!
4. Let the Daydreamin' begin!
Our family LOVES the zoo! We love to meander around, looking at all the unique animals – we love to catch them being active and watching them in this "habitat". Unlike the photo above.
This particular photo was taken at the San Antonio Zoo – a zoo that is near & dear to me as I visited it often as a child. I love this photo as it shows my relaxed kiddo, happy to be hanging out with his momma, checking out the animals. We had a fun day filled with spending 30 minutes in the butterfly room with butterflies landing all over us, to imitating all the crocodiles, to brushing the goats in the petting zoo, to riding the train I rode as a child. It was a carefree day filled with new adventures for me & the kids.
Totally blissful! Tell about your unique vacation and link up below!