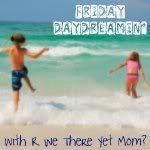 Happy Friday friends! Time for Friday Daydreamin'! My favorite day of the week as I get to armchair vacation through all of your lovely photos!!
It is H.O.T. hot here in Texas. So I am daydreaming of cool temperatures….
Back to 2006 when we traveled up to Jackson Hole, Wyoming for a few days. We wore sweatshirts and jeans and said things like "brrr…." and "should I bring a jacket?" And had views like this that took your breath away……..
Where are you daydreaming about? Post a picture and link up with us! We want to see!!