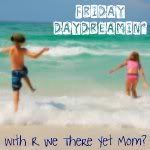 Happy Friday friends! Time for Friday Daydreamin'! My favorite day of the week as I get to armchair vacation through all of your lovely photos!!
Last weekend we celebrated the return of Fall. Unfortunately, someone forgot to tell Mother Nature, as it is HOT here in Texas. So this week, I am dreaming about Fall and all the fun the cooler temperatures bring us.
This picture, my friends, is NOT from Texas. It is from Illinois. One fun FALL vacation a few years ago. My kiddos were fascinated with all the falling leaves the trees around my in-laws houses had. They got outside and raked them up into big piles with their Pa-Pa and then he let them play. And it was just like the picture books – running & jumping and throwing leaves in the air. The perfect picture of Fall leaves fun.
What is your favorite thing to do in the Fall? Tell me in your comments!
And then link your Travel Photo post up with us below!! Please mention participation in Friday Daydreamin' in your post and visit some other blogs while you are at it! Happy Friday!
Also, if you have a Facebook Fan Page for your blog – please make sure we have connected! And look for us to feature your linked post over the weekend!