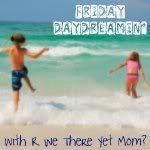 Happy Friday friends! Time for Friday Daydreamin'! My favorite day of the week as I get to armchair vacation through all of your lovely photos!!
We had our first "real" batch of chilly weather this week, making us feel like Fall is officially here in Texas. We were out playing both a football and soccer games huddled in jackets and blankets and gloves. Wanna know what the temperature was?? Don't laugh – it was 55. But you northern folks have to understand – that's winter for us!!!
That said, it's back up in the 80s now – a typical Fall for us. We relish the sunny yet "cool" days and get out and explore. And I came across this photo of us exploring in East Texas several years ago. We took an all day ride on the Texas State Railroad.
It was a fantastic day with a long train ride in the piney woods of East Texas. We enjoyed a picnic lunch and played around in the train yard for a bit. I captured this photo of the kiddos walking the rail, just like there dad. It will always be a great day of escaping the city and spending it together as a family – the perfect Fall Day.
What's your idea of a perfect Fall Day? Post a picture and link it up here with us this week on Friday Daydreamin'. And then take some time to hop around and enjoy other fantastic blogs that have linked up too.