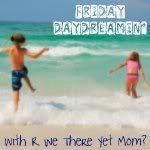 Happy Friday friends! Time for Friday Daydreamin'! My favorite day of the week as I get to armchair vacation through all of your lovely photos!!
And it's a BIG HAPPY BIRTHDAY celebration in our house this weekend!! My favorite traveling partner, and love of my life, turns 40 today!!!
So Happy Birthday to…..
the guy that will teach our kids to be brave…….
show them how to climb mountains, both literally & figuratively…..
the guy that loves a thrill…..
And who will seek adventure with me by his side…..
to the guy who will ride the teacups with his princess……
and hunt alligators with his boy…..
Happy Birthday to my best friend and travel partner for life!
What or Where are you Daydreamin of today?? Post a favorite travel picture and link up!! Then take a few minutes to visit others! You may get inspiration for your next vacation!