Happy Friday friends! Time for Friday Daydreamin'!
Join us each Friday by linking up your favorite travel post of the week and I will do my best to see them all over the weekend. I hope you will take a few minutes and visit some of the link ups too.
I love this link-up party because I get to learn & see so much travel through the eyes of all my fellow travel bloggers. I have learned so many amazing things and seen some gorgeous pictures thanks to y'all sharing your travels here. I hope you continue to do so.
At the end of last week, we were in Hill Country Heaven – at the JW Marriott San Antonio Hill Country Resort – and we had such a fab time, I wanted to share it with you today (and secretly wish I was back in my lounge chair!).
The best part about the resort was the amazing pool area – there was so much to do that my kids stayed all day long!
They had a perfect kids pool – that my little one could confidently play in – with 3 slides!
And these two went round and round the lazy river for hours.
The slides were pretty amazing – and the best part? It was MARCH – 82ish degrees outside, just like the water temperature.
There were tons of kids activities throughout the day to enjoy, but our favorite part was just letting the kids run on the "back lawn" of the resort – it was such a gorgeous Texas evening.
And the s'mores – wouldn't be a true Texas resort without some 'smores by the fire!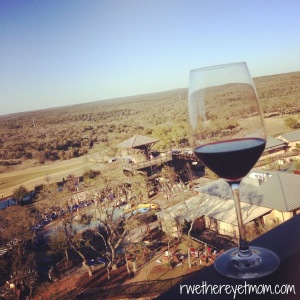 We even snuck in a little adult time too – this glass of vino was enjoyed on our patio. Gosh I loved that patio…..
And lastly – a little me time – at the Lantana Spa – Texas's largest spa – it was heaven y'all. If you even have a chance to go, I highly recommend it. Of course, you'll hear more about our stay in the coming weeks.
Please link up your favorite travel posts below and give a little love to those that have linked up too! Happy Friday!