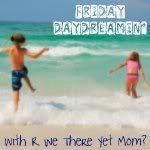 Happy First Friday in December Ya'll!!! It's Christmas time!! And though you
should
be putting up Christmas decorations, or wrapping gifts, or (gasp) still shopping for gifts (
me!Me!
), you are here with us, ready to daydream! Yay you!!
Show us your Friday best – what are YOU daydreaming about? Maybe it's not just a vacation, but a fun Holiday tradition? Something cool you have done in your area during the Holidays? Show us and link up!
Two years ago, we took a trip to THE WORLD for Christmas (beginning of December) – it was Magical. There is nothing like seeing everything dressed up for the Holidays, especially Cindy's Castle!!! It was like a completely different trip with all the special events and shows going on. I highly recommend seeing it this time of year!
Link up your favorite vacation Daydreams below! This meme is becoming more and more popular each week. I appreciate you joining in!!!
P.S. Don't forget that we are looking to host your posts about Holiday travels, traditions, events, etc. Go back through your archive and see what you have! We'd love to share it this month! Email [email protected]