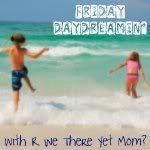 Happy Friday friends! Time for Friday Daydreamin'! My favorite day of the week as I get to armchair vacation through all of your lovely photos!!
It is Labor Day Weekend!! I love a good 3 day weekend, even if it does signify the end of the summer. We typically spend this weekend out at the lake, but not this year. Our big girl (the one pictured below from a few years ago) has a soccer tournament that she is playing in, so we are at home this weekend.
So in honor of the many years we have spent Labor Day Weekend at the lake, I am providing you with a Tubing Guide for all those "first-timers" out there. When my baby girl was only 6, she hopped on the tube behind the boat for the first time, where we were able to capture some great shots, thus providing us with out guide for you:
Here's hoping you get out on the lake this weekend and if not, please get out and enjoy yourselves!!
Link up your favorite vacation shots for this week's Friday Daydreamin'. Post a few pictures, tell us what you liked and link up with us! Also, take some time to visit some of your friends' posts – I always learn about new places to visit each Friday from your posts!