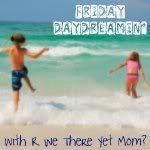 It's February!! The month of LOVE!! And I want to know WHERE are the places you LOVE? What is the best vacation spot that you LOVE? What is the perfect place you LOVE to go for solitude? Where is the best place to get your favorite slice of pizza that you LOVE? WHERE do you LOVE?
I'm heading back over the pond again, to another place hubby & I traveled to and LOVED! We only spend 5 days in London, England and it wasn't enough. We enjoyed the history, the culture, the accents, the weather (it was June), the food…..Nah not the food.
This picture was taken form the top of the London Eye – the giant ferris wheel that takes a full hour to go around and gives you this wonderful bird's-eye view of London. This picture was looking down over Parliament and Westminster Abbey, two incredible buildings.
I LOVED england and can't wait to go back!
Where do you LOVE? Tell us all about it!
**************************************
Make sure to come back next week for an all new set of Texas Travels: Spring Break Edition! We'll tell you where to find the World's Best Ice Cream, how you can visit Texas all in one day, and what our State Capitol is made up of!
************************************************