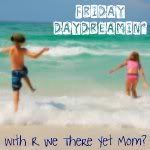 It's Friday Daydreamin' Holiday Style!! Show us your Holiday Best!! We want to see pictures from your favorite Holiday trip, your favorite local Holiday display, and your best holiday tradition!! I know we are all daydreaming about wonderful holidays, so get ready to share!
I know, I know – one more picture of Disney World??? Yep! I just can't get enough of that trip!! This is just a sampling of the hundreds of amazingly decorated-down-to-every-last-detail trees that we saw on our Christmas Trip to Disney World. They were beautiful!!
The far left was the HUGE tree in the lobby of the Wilderness Lodge – very Old West with Teepees and horses. The middle was from the Contemporary Hotel with a moving Monorail. And the far right is from the lobby of the Grand Flordian – to match it's Giant Gingerbread House. We coulds stare at these trees for days!
What are you Daydreaming about today? Holidays? Vacations? Both? Link up your photos with us!!