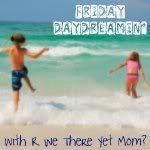 Happy Friday friends! Time for Friday Daydreamin'! My favorite day of the week as I get to armchair vacation through all of your lovely photos!!
Recently, I was tagged in a fun Blogger Relay – My Top 3 Travel Memories – by Leigh over at
Budget Traveler's Sandbox
. We are on the Blue team for the relay – Woo Hoo!
As much as I have enjoyed traveling all my life, I didn't really focus on it as much as I have in the past decade. And to narrow down my top 3 was difficult. I have seen some pretty exquisite stuff and had many a moment of awe as I looked at something historical. However, I went with my Top 3 Travel Moments that impacted me the most, that choked me up, and that will stay with me for a lifetime.
1. Rome – Sistine Chapel – In 2007, my husband & I traveled to Italy. We saw so many incredible things on that trip – the Leaning Tower of Pisa, David, the Colosseum…. But the ONE thing that made that trip even more incredible was our private tour of the Sistine Chapel. It has to be one of the most beautiful sites in the world. Knowing the painstaking work that Michelangelo underwent to create that masterpiece (I know my history) made it even more special.
2. Magic Kingdom – Wishes – In 2005, my husband & I took our then 4 year old daughter to the big DW. It was a whirlwind trip and the first of it's kind. We had no idea what to expect – the lines, the crowds, the excitement, the fun. We basked in her perpetual glow, thrilled to have made her so happy to have taken her to Disney World. The last evening, as she sat on my husband's shoulders watching (in my opinion) the best fireworks show, Wishes, she was so very happy. We were so very happy – and I was overcome with happiness at being a mom. A simple moment, but a memorable one nonetheless.
3. London – Abbey Road – I love England and we had a fantastic week there in 2008. We saw so much history while we were there from Churchill's Bunker to the Tower of London. We saw pomp & circumstance with the Changing of the Guard at Buckingham Palace….twice. We shopped at Harrod's and watched World Cup soccer at a pub. We had a ball. But the one moment that we will always remember – walking across Abbey Road, made famous by the Beatles' Album cover of the same name. I am a HUGE Beatles fan, so I made my hubby take the Tube to Abbey Rd. And it just so happened, four of us, all strangers, walked across the road at the perfect time to take this shot. Not quite a duplicate of the album, but it was fun!!
This was way too much fun!! I am passing the baton over to Lisa from Gone with the Family!
In the meantime, link up your Friday Daydreams here – post a favorite vacation picture and link up your post below. Spend some time visiting the links and enjoy some fantastic vacation locals along the way.