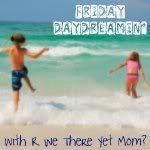 Happy Friday! My favorite day to Daydream about where I'd
rather
be……
In honor of National Parks week here in the US, I am daydreaming' about a wonderful trip to this National Park in Wyoming in 2007…..
My hubby & I had the privilege of visiting Jackson Hole in August – it was wonderful – perfect weather, stunning views, and so much to do outdoors! We white water rafted, hiked, and stood in awe of the gorgeous Grand Teton Mountains.
We will definitely be going back!!
Have you been to a National Park? Have a picture of it? Link up and tell us all about it here!
Hungry for more travel photo adventures? Please visit Travel Photo Thursday from Budget Travelers Sandbox and Delicious Baby's Photo Friday.
***********************************************************