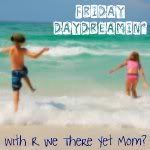 Happy Friday friends! Time for Friday Daydreamin'! My favorite day of the week as I get to armchair vacation through all of your lovely photos!!
Next Saturday (September 29, 2012) is National Public Lands Day and all the National Parks will have Free Admission on that day. My bet is that it will be a fantastic day to get outdoors!!
So I did a little searching and looked up all the National Parks that are near me here in Texas. I was saddened to see that in this GREAT state, we have a mere 13 National Parks. And don't get me wrong, they are fantastic parks, but only 13???
The nice thing is that the majority of the National Parks here in Texas have free admission, so many do get visited regularly.
So in honor of National Public Lands Day, I will do some real daydreamin' today. Wishing I was looking at this view in person and wishing I was at this National Park for National Public Lands Day – Grand Tetons National Park.
What is your favorite National Park?? Tell me in your comments!
And then link your Travel Photo post up with us below!! Please mention participation in Friday Daydreamin' in your post and visit some other blogs while you are at it! Happy Friday!
Also, if you have a Facebook Fan Page for your blog – please make sure we have connected! And look for us to feature your linked post over the weekend!