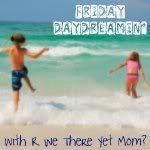 Happy Friday friends! Time for Friday Daydreamin'! My favorite day of the week as I get to armchair vacation through all of your lovely photos!!
We use got back from a 3 day trip down to one of my very favorite cities in Texas. Anyone recognize this famous landmark?
I have been to the San Antonio Riverwalk countless times and the appeal never wears off on me.
All your senses come alive on the Riverwalk. It was 95 plus humidity when we walked the Riverwalk, yet with all the trees, the shade felt perfectly comfortable. The brightly colored umbrellas welcome you to sit, smell the amazing Mexican food, taste the tangy margarita and zingy salsa. The sounds of the Mariachi bands put a smile to your face as every kid gets up to dance. I love this town!
Do you have a favorite place you like to visit? Tell us all about it by posting a picture and linking up this week! Visit a few of these great blogs and discover some new and exciting places to visit!