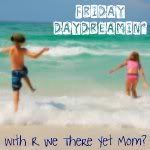 Happy Friday friends! Time for Friday Daydreamin'! My favorite day of the week as I get to armchair vacation through all of your lovely photos!!
I can hardly believe it has been almost 12 years since that fateful September 11. Such a horrific day that I will remember for the rest of my life. I was in New York on business when it happened – No where near the Twin Towers – and it took us 3 days to get home.
Last fall, I traveled to New York and had the incredible opportunity to see the new National September 11 Memorial & Museum a few days after it had been dedicated. It was incredibly well-done. A glorious memorial for all those that lost their lives, yet such an incredibly sad place.
And it was the items like this rose, placed in a loved ones' etched name that touched your heart. May we never forget.
Write a post featuring your favorite vacation photos. Link up your post below ad take some time to enjoy everyone's shots. They are an incredible way to learn about some new places!