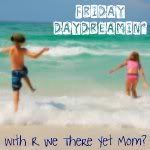 Anyone daydreamin' about a beach??
ME! ME!
We are off to Florida in ONE WEEK! Woo-Hoo! Bring on the sun, the sand, the smell of the ocean, the calm of the water……. I love taking my kids to the beach – we find it to be a great time of bonding.
Especially when it comes to building sandcastles.
A few summers ago, while visiting Port Aransas, Texas, we hired a "sandcastle guy" to teach us how to build a great sandcastle. We had such a fun time learning all the proper methods and using the right tools and ended up building a beautiful sandcastle that day.
Now, when we go to the beach, we pull some of those very same tactics out to build our creations. And while they may never be the same caliber as our "sandcastle guy", we have a blast making them, and that's what counts, right?
Tell us what you are daydreamin' about today by posting a picture of your favorite vacation spot, tell us a bit about it and link up below! I can't wait to see!