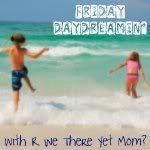 Happy Friday and welcome to Friday Daydreamin'! We love to take a "trip around the world" from the comfort of our own home each Friday by visiting all those amazing blogs out there that link up travel & vacation photos! We LOVE seeing the far ends of the east AND places in your neck of the woods! So please link up today!
Today is a very special day in our house…….the LAST DAY OF SCHOOL!! Summer is here and we couldn't be more excited – we have over 100 things on our Summer Bucket List already!!
So, not a travel picture, but a fun picture I took last summer as the kids got of the bus on the last day of school. I think this afternoon, they may all get pelted with a water balloon fight!! Nothing like welcoming the summer in style!!
A BIG THANK YOU for all the amazing link ups we get each week! I love visiting all of your blogs, please continue to do so all summer long. Additionally, I am looking for guest posts to feature all sorts of fun places to visit across the US – please send me a quick
email
if you are interested!