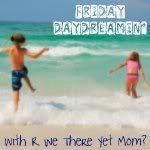 Boo! It's Friday of our Spring Break here in Texas and we are wrapping up a FUN FUN FUN week. If you have been following us on
Facebook
, you know that we have been BUSY! We are in the Hill Country right now, enjoying some fun activities, but we wanted to still share our Friday Daydreams with you!
Truth be told, I have taken over 1000 pictures this week, so it's hard to summarize our fun in just one picture. We have watched Shamu leap effortlessly out of the water like a dancer, we have hiked a popular hill in Austin, played with some amazing new iPad apps at SXSW, and viewed 50,000 year old mammoth bones. And that was only by Wednesday!!
These set of pictures says it all for us, "WOW! There is so many fun things to do in Texas!"
Including standing in a bubble……
What have you done or are planning to do this Spring Break? What have you doe in the past? Share a Spring Break Experience with us and link it up below. Take a few moments to visit the other links! It's like a trip around the world!!
I have no access to the internet this weekend, but I will visit everyone when we get back!!
************************************************