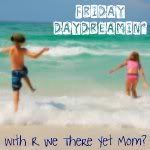 Y'all!! Spring Break starts today! Well, technically at 2:45 p.m. when the kiddos get out of school, but that doesn't temper my excitement. I am already daydreaming about the FUN we have planned!! Want a sneak peek??
Inspired by this post over on
Quirky Momma
, my little family brainstormed all we wanted to do over the break and came up with this fun itinerary. We have a little history at the Pioneer Farms & LBJ Ranch, see Shamu at SeaWorld San Antonio, have a few hikes, go underground at a new cavern, go on a river cruise, and find some yummy places to eat. But what am I most excited about? Getting to explore all these fun, new places with my family! I can't wait to make memories with my kiddos!
What are your Spring Break Plans? Tell us about them, add a picture, and link up with us today!
************************************************