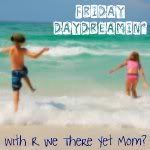 Well Valentine's Day has come and gone….a day full of LOVE in this house….but we are NOT done talking about places we LOVE over here!! After all, February is the Month of Love, right??
It is time once again to show us a place you LOVE on Friday Daydreamin'! We want to see your favorite vacation spot that you would LOVE to go back to. We want to see a place you love to go and relax at. We want to see the place you LOVE to get a homemade slice of pie from…..show us the LOVE!!!
And speaking of pie….
I want to show you one of my favorite meals that I LOVE getting whenever we visit my in-laws in Springfield, IL.
I present, the Horseshoe:
Before you say EWWWWW – stick with me.
What is it?
Texas Toast
loaded with your choice of meat – I like ham
covered with crinkle fries (must be crinkly in my book)
topped with a wonderful cheese sauce.
This particular guy was a "Pony shoe" – half version of a horseshoe.
Yes, it's a heart attack on a plate. Yes, I know it doesn't look appetizing (to you maybe). But gosh, I love this dish. It tends to be one of our first meals when we head back to Illinois.
This past summer, I tried many shoes (we were visiting for 4 weeks, I had time….)
And two of my other favorites included this guy:
jalapeno cheddar corn bread, BBQ pulled pork, sweet potato fries and a pepper-jack cheese sauce.
y'all, I have dreams about this dish. seriously.
And then there is this cutie:
toast, scrambled egg, hammor bacon, gravy AND cheese sauce topped with hash browns.
looks disgusting right?? so delicious.
I'm making y'all see me in a new light huh??
Face it, I do LOVE food – and I really LOVE trying the "local dish". But the horseshoe tops them all – my favorite "vacation" food!
Now show us what you LOVE!!! Link up with us!




Hungry for more travel photo adventures? Please visit Travel Photo Thursday from Budget Travelers Sandbox and Delicious Baby's Photo Friday.