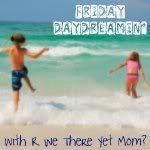 Summer is in FULL swing here in Texas and we have been B.U.S.Y. In the 2 weeks since we have gotten out of school we have been a part of a wedding, stayed at an amazing resort (can't wait to tell you about it next week!), gone to Schlitterbahn, spent 3 days at the lake, went to the zoo, and gone to 3 concerts. Whew! Can the rest of this summer keep up at this pace???
Schlitterbahn was the most fun for my little 3 year old dare-devil, as he tried most of the rides he could go on, including one crazy rapid ride, squealing all the way through. What I loved the most about our day was the over-abundance of fun water plays capes for the little ones. This slide kept my guy entertained for hours!
And this is what summer is all about for me – happy water fun!!! On the beach, at the lake, in a pool…whereever you go, I hope you have some Happy Water Fun this summer!
Link up your Friday Daydreamin' posts with us and please visit those that link up as feel – leave them some love – we all love comments!
Also, we are looking for YOU to tell us all about where you live in our Virtual Road Trip series for the summer – won't you consider a guest post telling us all about the great place you are from? LEarn more about it here.