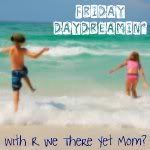 Happy Friday friends! Time for Friday Daydreamin'! My favorite day of the week as I get to armchair vacation through all of your lovely photos!!
Have you ever got in the car and just drove? No destination in mind, just want to get out and explore?
A few weekends ago, we piled the kids in the car and drove out into the Texas Hill Country – the kids of course were aghast that we has no plan, "Where are we GOING?" they kept asking?
It was one of the most memorable Saturdays of our summer. We discovered new towns, new BBQ restaurants, and ran across some Texas History….like one of the oldest Suspension Bridges in Texas.
The "Sunday Drive" novelty is lost these days, I'm afraid. Everyone is busy and rushed, with a destination in mind every time they get in the car. But we found it to be refreshing, discovering new areas so close to home. And we vowed to do it again.
How about you? Do you "Sunday Drive?"
Link up your favorite travel photos here each Friday – close to home or across the globe, we love to see them! And take a few moments to visit other photos as well!