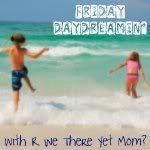 Happy Friday! My favorite day to Daydream about where I'd rather be……
Growing up in Texas, I visited the Hill Country all the time. I love the rolling hills, cedar trees, and untouched feel to it. I knew that it was good ranching country, but never really looked past the lakes I loved so much. Until recently.
I took my kids out to Stonewall to visit the LBJ Ranch & the Texas White House. It is a self-guided tour and they provide you with a delightful narrative CD to listen to as you drive around the Ranch. One particular moment, as the CD played an inspiring Texas song, I looked out the windows and gasped. The sight (not captured as well as I'd like in photo), truly displayed Texas. Rolling hills, green grass, slow-moving cattle, and a country song on the radio. It was my quintessential Texan moment.
Just ignore the airstrip on the right where President LBJ would fly "Air Force one-half" to his Texas White House. That was totally out of place.
Have a great photo of a spot that made you gasp? Share it or your favorite vacation photos with us! Link up below and please visit some of the other links today as well!
Hungry for more travel photo adventures? Please visit Travel Photo Thursday from Budget Travelers Sandbox and Delicious Baby's Photo Friday.