Happy Friday friends! Time for Friday Daydreamin'! My favorite day of the week as I get to armchair vacation through all of your lovely photos!!
This month, I will be sharing all the places in Texas that I am Thankful for. Take a few moments to learn a little more about this great state that I call home….and love so dearly.
Nothing tastes better to me than a good, smoked brisket…bar-b-qued here in Texas. We have TONS of amazing places to get BBQ here in Texas, just so happens, I LOVE
The Salt Lick BBQ
– authentic, out in the middle of nowhere (not really), with picnic tables and bottles of beer – just exactly how you would picture a BBQ joint in Texas.
Texas cities all have very unique skylines, complete with towers to catch a great view of the city. One of my favorite views happens to be from the Tower of Americas in San Antonio. Look closely at the white roof surrounded by trees all the way on the right-side of the picture. There's the Alamo!!
Austin, Texas is full of tons of fun art murals just painted on random sides of buildings. We love to hunt them down as a family and take our picture with them. The "Greetings from Austin" mural is one of my favorites! Next time you are in Austin, make sure you get your picture with it!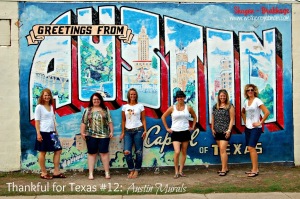 One of the best places to go to see a working Texas ranch that is completely open to the public for tours (for free!!) is the LBJ Ranch at the Lyndon B. Johnson National Historical Park out in Stonewall, Texas. I love how Texas it feels while you are driving through the fields dotted with these gorgeous Hereford cattle. Then you get to walk through the Texas White House and learn some amazing Texas History. What a treasure.
One of the coolest parks in Texas is
SeaWorld San Antonio
. It's the combination of the amazing sea animal shows, fun amusement rides, and great learning environment, all nestled in the scenic hill country of Texas.
With over 600 miles of shoreline in Texas, chances are you are going to see some gorgeous sunsets over the water. I particularly love the ones you can see out of Galveston Bay. But with so many lakes and rivers here, there are gorgeous water sunsets all over the state.
One of the coolest and quirkiest city "pets" in Texas are the beloved Mexican free-tailed bats that live under the Congress Avenue bridge in Austin, Texas during the warmer months. Nightly, over 1.5 million bats
emerge at dusk
, setting the stage for a really cool show.
Post your favorite Friday Daydreamin' pictures on your blog and link up with us below: