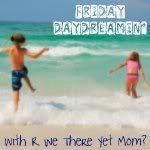 The R We There Yet Mom family is on vacation this week. We are at the beach. Gather lots and lots of these:
Genuine, honest-to-goodness SMILEs from my kiddos – especially from this guy who hates to smile for the camera! This smile shows me how much fun we are having as a family.
We are unplugged today, playing at the beach, so forgive me if I don't visit right away! I will – I can never miss a good vacation picture!
So please link up your best and visit some of the others!