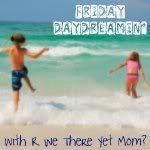 That's right – I want to know WHERE are the places you LOVE? What is the best vacation spot that you LOVE? What is the perfect place you LOVE to go for solitude? Where is the best place to get your favorite slice of pizza that you LOVE? WHERE do you LOVE?
My heart goes pitter-pat every single time I think of this moment in my life. Matt & I had the privilege of a private tour of the Sistine Chapel and it will be a one of those times you will remember for the rest of you life. I had purposely read
The Agony & The Ecstasy
by Irving Stone (a biographical novel of Michelango) before going, so I really felt connected to the time he spent painting the ceiling and
The Last Judgement
(this wall). It was absolutely breathtaking thinking of how many years ago he created this masterpiece (completed in 1541) and I was seeing it in person.
We were only in it for 20 minutes, but they were glorious – I took in each panel on the ceiling and tried to imagine Michelango on a scaffold painting each day for year after year. I felt the importance of the chapel, knowing that each of the Papel Conclaves are held in here. And I felt Michelango pure agony of painting his self portrait in The Last Judgement (it is he as the loose skin held by St. Bartholomew in the center of the picture).
This is absolutely a place that I love dearly – and probably a moment I will never be able to recreate.
BTW, this is my personal picture – we were allowed to snap photos with the flash off.
Show us Where YOU LOVE. Link up your post below and make sure you take some time today to visit some of the other links – everyone loves a little comment love!
***********************************************
Over the next 5 weeks,
R We There Yet Mom?
will be featuring places to take the kids to for Spring Break. We are looking to feature your stories – perfect overnight, close to home, weekend get-a-way -we would love to hear what you have done with your family and why it'd make a perfect jaunt for Spring Break. Email your ideas to
[email protected]
************************************************