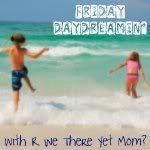 Whew! Welcome to July! It is H-O-T here in the Midwest where we have spent the last week- vastly different from Florida.
You may or may not know, we are in the middle of vacation and were in the Sunny state of Florida all last week. But it didn't start off so sunny……
We arrived in Florida just in time to welcome the outer bands of Tropical Storm Debby and our first official day in Santa Rosa Beach looked like this. The forecasters predicted we'd have weather like this most of the week. But we made the best of it – lots of good books, games, and a walk in the rain ended up being the perfect start to a very restful week.
The sun made an appearance the middle of the next day and decided to stick around the rest of the week, making for a wonderful time on the Florida beaches!
Ever have an unexpected start to a vacation? Post a picture and tell us all about it! Or just show us more of your favorite vacation pics – I love visiting all the places you show us each week! Link up down below and make sure to visit a few of the other blogs that have taken the time to link up too.
***************************************************
I am in the middle of a fun giveaway for a $25 Visa Gift Card – a PERFECT thing to take on your next vacation! Click here to go to the post and leave a quick comment to win!