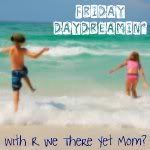 Happy Friday! We had a full week at home after 3 full weeks of traveling and it has been great to be home. I have had lots of time to edit, write, and get back into the groove. Woo-Hoo! Bring on Friday Daydreamin'!! Can't wait to see your shots!
Last week we visited a pretty incredible memorial. It made me stop. I read every plaque. I discussed it with my kids. And we even went back the next day.
It was the 9/11 Flight Crew Memorial – dedicated to the men & women who were killed on 9/11.
Every one of the objects on the memorial represent something and has a story. Even the memorial itself has an incredible story as to it's existence.
And it's location has an incredible story. As planes are taking off and landing at the very busy DFW International Airport, flight crews can see this incredible memorial honoring them.
It was a memorial that impacted me, as I was impacted by 9/11. And it made me realize that each & every memorial out there has a story and we should do our best to take the time to stop and learn about them…as what they represent, has impacted someone at some time.
Do you take the time to visit memorials on your travels? We will be now.
Thank you to everyone who has been linking up each week – I LOVE seeing your pictures & hearing your stories! And I really appreciate your tweets & posts about Friday Daydreamin' as well!!