Most people don't think of New Mexico when they think of skiing.  Being one of the closest ski resorts to Texas, we have visited Angel Fire Resort twice now.  It's a fun option for both new & experienced skiers.  Here's all there is to do there: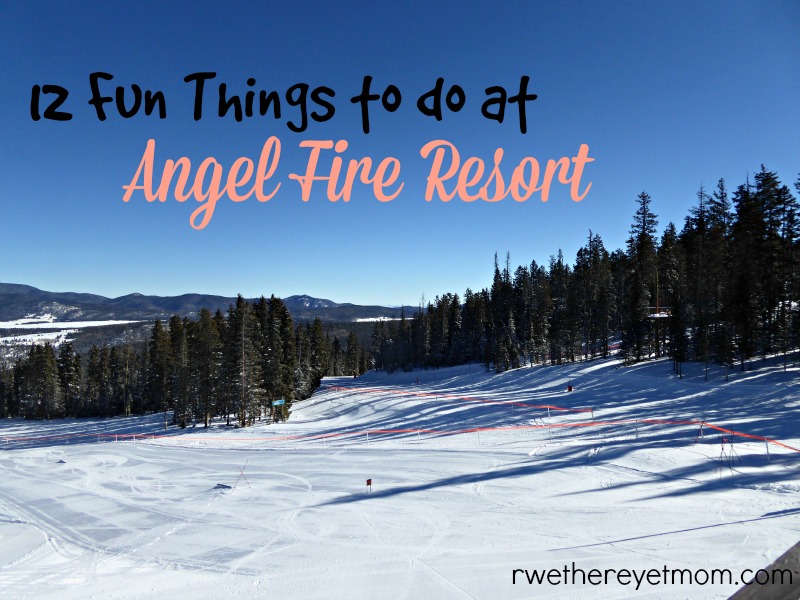 Have you considered skiing in New Mexico?  Cause normally, I would head straight to Colorado. Two years ago, I had the opportunity to experience a winter trip to Angel Fire, New Mexico and was pleasantly surprised at not only how great the skiing was, but how much there is to do there for families.  If you are looking for a winter weather escape or to book your upcoming Spring Break trip, here are some fun reasons why you should look into a trip to Angel Fire Resort.
12 Fun Things to do at Angel Fire Resort this Winter: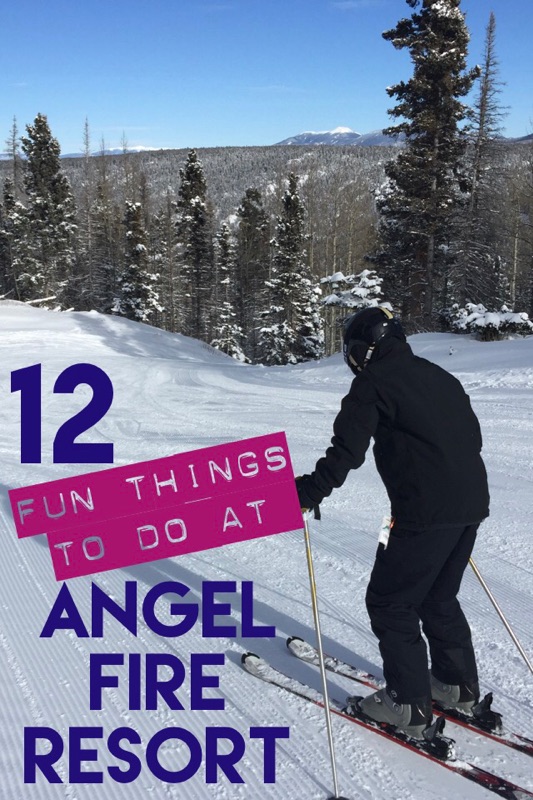 Angel Fire Resort: Alpine Skiing
Angel Fire Resort is a great place for all-levels of skiing. With 76 runs and average of 72 feet of snow a year, it's really much bigger than you expect.  I loved taking the long lift up to the Summit (Chile Express) and spending all morning on the backside going down the Highway.  There are tons of runs to choose from (both green & blue).  Past the summit, Coming Home is a nice 3.5 mile run that is just beautiful.  I found the mountain to be cozy and safe, a place that you can ski as a family or let the older kids go off for a bit while mom & dad take a break.  And on weekends and prime holidays, Angel Fire resort lights up a few runs for night skiing.

Angel Fire Resort:

Snowboarding
If you have snowboarders in your family, Angel Fire Resort has some great runs for you as well. On the lower front side of the mountain, there are three terrain parks.  New for this season, Night Rider, which is also open at night and The Railyard Park, which has both beginner & intermediate level features.

Angel Fire Resort: Ski & Ride School
One of the most impressive ski schools I have visited, it's no wonder the Angel Fire Ski & Ride School have returning kids each season. The instructors are great with kids, patient yet inspiring – I personally saw this time & time again at the school and on the mountain.  They offer small class sizes, 4:1 ratio (but most times it's smaller) and a great deal of time on the snow (5+ hours).  A full day of lessons for a child will include lunch, snacks, instruction time and fun.
I spent time with the director of the school, Robin May, and was so impressed with how much attention to detail they offer.  Each child has a GPS chip for them to always know where they are skiing.  Instructors also get a notification if they become too far away from the child.  And parents can see all the runs your child did at the end of the day.
Students are always being evaluated to ensure they are in the right class level and they keep everything on record so that if your child returns the following year, they know exactly where to place them.  Lastly, kids can earn virtual flak badges when they accomplish various tasks – making their experience challenging & fun.
Angel Fire Resort:

Snow Bear Camp
For kiddos who just aren't ready or interested in skiing, Angel Fire Resort offers Snow Bear camp for ages 6 weeks to 11 years.  Snow Bear Camp includes both indoor & outdoor activities, planned curriculum, and snacks & lunch. Advanced reservations are highly recommended.

Angel Fire Resort: Polar Coaster
A 700 foot conveyor belt transports eager snow tubers to the top of the Polar Coaster, ready to zoom down the 3 runs at unbelievable speeds. The tubing hill is a great family activity and is located right at the bottom of the lifts. It is open from 1:00 pm – 5:30 pm, but you must sign up for a time slot in advance.

Angel Fire Resort:

Nordic Skiing & Skating
The Angel Fire Resort Country Club is transformed each winter into a nordic course for both skiing & skating. With over 15K of trains, guests looking for something a bit different than downhill skiing can try their hand at these two sports. Lessons and ski rentals are available at the Nordic Center, or if you are proficient, you can get a pass and head out on your own. The trails are beautiful and you can count on getting a terrific workout.

Angel Fire Resort:

Snowshoeing
The Nordic Center also offers snowshoeing to hike the trails as well. A quick rental and brief instruction are all you need to get yourself hiking. We took a hour long hike on a beautiful sunny day and it was great – very easy and fun to do.

Angel Fire Resort: Sledding Hill
Located directly in front of the Nordic Center, the long sledding hill is open to kids 12 and under. There are a variety of sleds to close from and with a nominal fee, your kids can sled as much as they want through out the whole day.
Angel Fire Resort:

Dining
Angel Fire has many great options for dining. We enjoyed several of the restaurants around the resort during the day. The Green Chilie Stew at the Sunset Grille was the perfect way to warm up and refuel for lunch. The atmosphere at the Summit Haus was great – they grill burgers and offer terrific summit views both indoors and on their patio. If you are looking for a nice meal, try Elements at the Angel Fire Resort Country Club. And a fun place for the entire family to kick back after a long day of skiing was The PUB 'n Grub in town. They have a large selection of craft beers, comfort food and a fun dessert menu.
Angel Fire Resort:

Fun Activities
Angel Fire Resort has fun weekends planned through out the winter season. Check out the Big Ol' Texas Weekend with BBQ, country music, and fun. Or the World Championship Shovel Races happening in February – they are exactly as they sound, racing down the mountain at break-neck speeds on a shovel. And they have lots of fun planned throughout March for Spring Break.
Angel Fire Resort is affordable for families. Pass prices are very reasonable, kids 6 and under ski free and 5th graders (with their report card) get a free lift ticket. And I love their Parenting Pass – mom & dad can buy one pass to share – one skis while the other is with the child too young to ski and then they can switch – brilliant!
Check out Angel Fire Resort for a winter escape.  Or if you are looking at a summer trip, they offer mountain biking, golfing, a crazy fun zip line and more.  I'll tell you all about that soon!
Disclosure: I was invited to stay & ski at Angel Fire Resort as a guest.  I was not paid for this review.  All opinions are my own.