What's the one thing a traveling mom needs? A weekend away with the girls! Lucky for me, Westin Galleria Dallas invited me and a few girlfriends up for a weekend in July. And it was just the weekend any tired mom could want.
Comfort
I have always been a really big fan of Westin. I think their rooms are modern and beautiful and the Westin Galleria Dallas was just what I had expected. Out room was spacious with a huge bathroom. We each took turns lounging in this massive window seat that overlooked Dallas. And the showers had a huge nozzle overhead – creating a rain shower.
But what is Westin known for? Their Heavenly Beds, only the most comfortable beds you will ever sleep in. Being a tired mom of 3, sleeping in such luxury for the weekend gave me some of the best nights of sleep I have had in such a long time. I can't decide if it's the pillow-top mattress or the luxurious sheets, or the soft feather pillows. Or maybe it's the combination of them all that ease you into the deepest sleep. What ever it is, I'm a fan.
The Westin's Heavenly Bed
We really enjoyed the Executive Lounge in the Westin. Each evening, they have a Happy Hour with heavy horderves and drinks. And they had a wonderful continental breakfast each morning. Typically, when I travel, we aim for the least expensive room. But after enjoying the amenities the Executive Level provided, I can see how asking to stay at this level would be beneficial for a traveling family.
Breakfast in the Executive Lounge
Dining & Nightlife
The Second Floor by Scott Gottlich had a delicious summer dinner menu while we were there. The appetizers & Sangria were a delicious start. My Summer Panzanella salad had melon balls and goat cheese – it was such a light salad that I could have made a meal out of it. And we all enjoyed the grilled ribeye. The atmosphere is hip and made for a nice meal with girlfriends. Later that evening, we enjoyed a few drinks in the bar. It was the perfect way to end the evening.
The Second Floor lounge
The Westin Galleria Dallas also had a few meals for us in Prive, a private dining room for The Second Floor. It's a gorgeous area for private parties. But for even more fun, they invited us back into the kitchen to meet with the Pastry Chefs who invited us to create our own desserts! What group of girls can say no to a spread of chocolate such as this?
Relaxation
On weekends, the Dallas Galleria Westin partners with lululemon athletica Pool-side Yoga. We enjoyed an hour of relaxing yoga on the pool deck to start our day with. The Westin has a gear lending program you can use to borrow athletic clothes and shoes. What a nice service, as I never pack my running shoes and always regret it once I see how great of a workout facility the hotel has. And the Dallas Westin Galleria has a nice one. You can borrow New Balance clothing & shoes for only $5 and you eliminate having to take home your stinky workout clothes.
Westin's Gear Lending program
We relaxed by the pool on Sunday morning. Three moms, three big cups of coffee and 3 comfy lounge chairs – oh yes, we relaxed.
Location
Now I have to admit, one of our favorite attractions to the Westin Galleria Dallas is that it is attached to the Galleria. Shopping was only an elevator ride away. The Dallas Galleria is a shopping mecca that needs no description. Home to every store for every need, the mall hosts a full-sized ice skating rink, an American Girl Doll Store and several award-winning restaurants. We were thrilled to find out that if you are an out-of-town guest (guests traveling more than 50 miles), you can receive a VIP Privilege card with specials and discounts in stores across the mall.
Ice Skating at Dallas Galleria
During our weekend, the Dallas Galleria invited us to participate in a shopping scavenger hunt that found us trying on clothes, doing yoga poses, feeling the newest hand scrubs, and more. We had such a fun time and found plenty of time to shop too – so much shopping that the back of my GMC Yukon was filled to the top.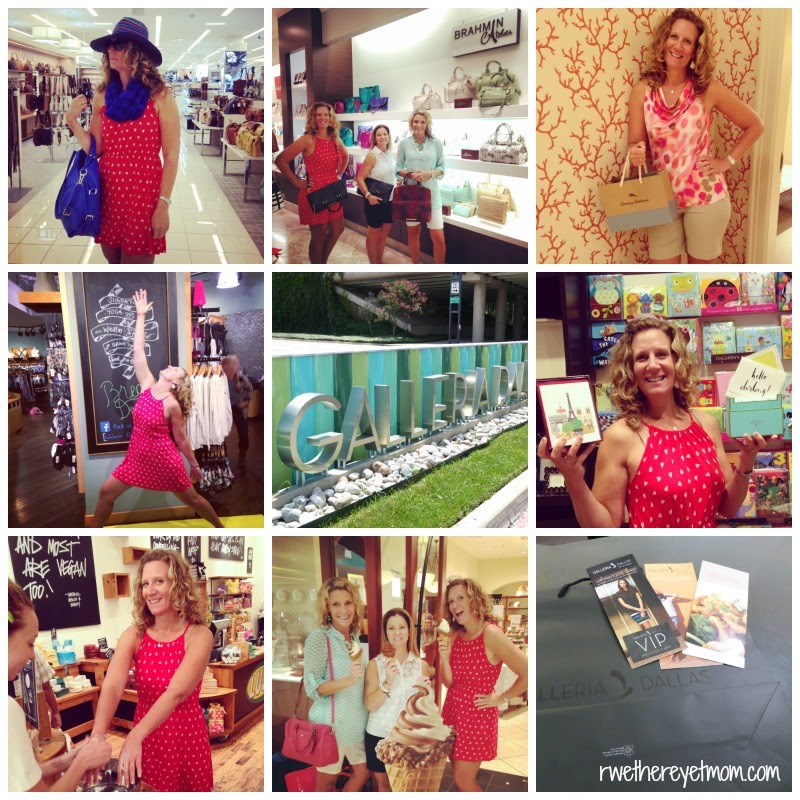 Fun during the Galleria Dallas Scavenger Hunt
Thank you to lululemon athletica, Brahmin, Tommy Bahama, Belk, Godiva, Lush, & Papyrus for hosting us on the fun scavenger hunt.
Our weekend was everything we could have asked for and more. We were spoiled by the luxurious Westin Galleria Dallas. Being able to relax in such nice settings allowed us the opportunity to take off our mom-hats and just be girlfriends. The Westin Galleria Dallas is the perfect location for a girlfriends weekend.
Disclosure: My girlfriends and I were invited to stay at the Westin Galleria Dallas for the weekend. We were invited to participate in the shopping scavenger hunt by the Dallas Galleria. I was not compensated to write this review. All opinions are my own.